Expand your Entertainment Line-up with an Elliptical Laptop Holder
If you are the ultimate multitasker, a treadmill or elliptical laptop holder is ideal for getting your work — and your workout — done at the same time. No longer limited to watching TV or listening to music, you can get hours of exercise while reading documents, online news, a book Kindle, or watching videos.
Whatever it is that keeps you in front of a computer screen for a large part of your day, you need to get exercise, and now have a way to do both of these activities with an exciting gadget that is a step above other universal holders.
The Ideal Product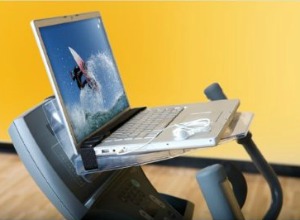 The SurfShelf Laptop Holder is the best product on the market for walking and reading from an electronic device at the same time.
Available at Amazon ($39.95), this elliptical laptop holder also fits most models of treadmills, stationary bikes, or any other type of set-up where you need a portable shelf.
It can also double as a holder for a DVD player, Kindle, phone, or iPad, as well as for paperbacks and magazines. The SurfShelf is ideal for surfing, researching, Tweeting, commenting, reading emails, ordering online, using dictation software, and much more.
Check out the SurfShelf Laptop and iPad Holder On Sale Now!
Sturdy and Safe
Sounds like another plastic book holder that hooks over the console, right? Not quite. The elliptical laptop holder is a big deal for people who use their computers for entertainment.
It's made with 100% Polycarbonate inter-locking pieces, which is the same type of plastic used to make bulletproof glass. It has a Velcro strap to hold your laptop tightly in place. Weighing just 2.2 lbs, it is light enough to take with you on a cruise or business trip.
It doesn't require any tools or to be permanently fixed to your trainer. In less than a minute, you can install the holder on your console.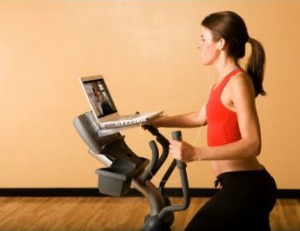 Drawbacks? Although the holder fits 99% of all ellipticals, treadmills, and bike models, it may not fit older machines, unfortunately. For example, the SurfShelf will not fit the popular Nordic Track AudioStrider elliptical.
Fortunately, SurfShelf provides a list of machines the SurfShelf will not fit. Furthermore, the holder plus your open laptop will block the display and controls on your elliptical or treadmill display, as well as some console fans. This won't be a problem on newer machines that have additional speed/incline controls on the side arms.
The Best Holder on the Market
The SurfShelf was primarily designed for use for portable laptops on an exercise machine where you will not need to type or use a mouse. It's very solid too, you can trust your laptop will be safe and secure while you pedal away on the elliptical. For that matter, even your cat will like it, if you have one that likes to "perch." The holder has been tested to hold up to 60 lbs.
To sweeten the deal, the SurfShelf company gives each new customer a free membership to In-Gym.com. With 84 video channels featuring news, sports, music, online TV, and more, the entertainment site is easy to navigate with no typing or mouse required. Just use your arrow keys for instant and free entertainment.
The company is so sure that you will love SurfShelf, they sell the elliptical laptop holder with a 100% no-questions-asked money-back guarantee. With a pledge like that, you can't lose. Try it yourself and see if you don't agree that it is the best holder on the market.
Check out the SurfShelf Laptop and iPad Holder On Sale Now!