Elliptical Machine Training - 6 Tips to Get Results Fast
The good thing about elliptical machine training is that it gives you a great overall cardio workout without stressing out the joints in the knees and ankles, a problem that can occur when running outdoors on a hard surface.
But elliptical cross trainers can't provide the motivation you need to get off the plateau you're on and move to a higher fitness level. That is up to you. Your body constantly adapts to any fitness regime you put it to, so it's up to you to throw some variety into your elliptical machine training.
With that in mind, here are 6 tips for getting the most out of working out on elliptical cross trainers:
1. Use the Cross-Training Handlebars - If you are training on an elliptical machine equipped with movable handlebars, these are great for working the biceps, triceps, shoulders, chest and back. This is an effective toning, stretching and conditioning workout for the upper torso and is ideal for people who don't like the idea of lifting weights.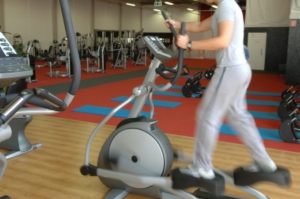 2. Free Your Hands - You can also add variety to your elliptical training by dropping your hands to a comfortable position in front of your body and letting the movable bars swing freely. (They won't hit you.) It is much more difficult to pedal on an elliptical machine without hanging on to anything and this work wonders for balance and coordination.
3. Monitor Your Heart Rate - Most of the better models of elliptical cross trainers have a pulse grip sensor on the handlebars. This will give you a reading of your heart rate so you can see if you are working in the target heart zone or at your optimal heart rate.
4. Always Add Variety - The programs on the display console are designed for fat burning, cross country, hill climbs, target training zone, etc. Too many people step on an elliptical machine training at only the manual setting which can get very boring. By using the programs, you're letting the machine adjust the incline and the resistance at various intervals. This way, you can keep the cross training routines fresh and energizing so that your overall conditioning continues to improve. Which ever program you choose, and you do them all at least once a month, make sure you train on the elliptical machine for a full 30-minute session.
5. Now Reverse! - Once you've set the ramp level and resistance in the manual mode at your preferred comfort level, go for about 6 to 8 minutes. Then do about 2 minutes at the highest incline level and increase the resistance as much as you can stand. Then step the ramp and resistance levels back down to medium, and do the next 6 minutes - in reverse!
6. Use the Best Machine - Your health club will no doubt be using Precors, Octane or Life Fitness for elliptical machine training and you should too - if you can afford one. Not all machines are created equal. To say that Precor makes the best elliptical cross trainers isn't just marketing hype; they invented the machine, they perfected the machine, they hold 171 patents (at last count) on this machine alone, and no other company is permitted to use their patented elliptical motion (to read the specifics on this, read our article on The History of Elliptical Home Trainers.) Use a quality cross trainer for your elliptical machine training and get the fitness results you seek faster and more safely and easily.