Exerpeutic Elliptical Trainers - Popular and Priced Right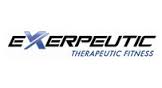 Exerpeutic elliptical trainers have become increasingly popular over the last few years due to that fact that they are very affordably priced and seem to be quite decent compared to other bargain brands.
Available at various offline and online retailers, the company offers five different models ranging in price from $89 up to about $800.
Exerpeutic is part of a company called Paradigm Health & Wellness, based in Southern California.  The company also manufactures Ironman Fitness, WorkFit, ProGear and Fitness Reality equipment.
Along with elliptical machines, you can find Exerpeutic treadmills, upright and recumbent bikes. 
A Look at the Current Exerpeutic Elliptical Lineup
There are a number of different Exerpeutic ellipticals to choose from, but most are budget-priced and compact, making them ideal for home use.
Let's take a look at the various models currently being offered...
Aero Elliptical
The entry-level Exerpeutic Aero is the most basic machine the company offers, selling for around $89.  Because of its low price it is also the most popular model.
It features a 14" stride, reverse motion, dial resistance, basic LCD display, large pedals, transport wheels, a 1 year limited warranty and a 250 lb. max weight capacity.
Gold XL9 Aero
This one is an elliptical and a bike in one, with an adjustable recumbent seat for two workouts in one.  It shares the same 250 lb. weight capacity and 1 year warranty with the Exerpeutic Aero elliptical.
1000XL Magnetic

This step up model gives you 8 different magnetic resistance levels to choose from, a 13" stride and pulse heart rate, as well as a higher weight capacity than the two entry level models at 325 lbs.
Gold 2000XLST

Here you get 21 built in workout programs, smoother motion, 16 levels of resistance and Bluetooth workout tracking, along with a 275 lb. max weight capacity.
Check out the popular ellipticals from Exerpeutic on sale now!

6000 QF Magnetic

The top of the line model gives you an 18" stride, 24 levels of resistance, 12 built in workouts and heart rate monitoring, along with a 270 lb. max weight capacity.
There used to be a high-end model called the Heavy Duty 21" Pro Stride model, which cost around $800-$1600 depending on sales.  It had a very generous 21" stride, 15 levels of resistance, better construction, more advanced display and a better warranty.  But it seems that model may have been discontinued.

Which Exerpeutic Elliptical Should You Choose?
Keep in mind when considering Exerpeutic ellipticals that these are all strictly entry level machines for very light usage.  You're not going to bang away at these every single day for years on end.
As long as you keep that in mind, you should be happy with your purchase as there are a lot of positive Exerpeutic reviews out there...so they must be doing something right.
As far as which model to choose, you should try to stretch your budget as much as possible in order to get the better features. The 6000 Magnetic is going to be your best choice because it is the only model with a decent sized 18" stride as well as a nice array of workouts and resistance levels to choose from.
After that the Gold 2000 is the next bet, plus you get Bluetooth tracking which is always a nice feature to have.  Both of those models are in the $250-$300 range so they are very affordable.
We'd only pick the Exerpeutic Aero elliptical or the 1000XL if your budget is very tight and you need to stay under $200.  
Those models are just not built for any real performance, and will only accommodate the lightest of workouts.  Plus their short stride lengths will be uncomfortable for most users.
What the Reviews Say
For the most part reviews of the Exerpeutic ellipticals are favorable.  Although they are sold at various places, the largest aount of sales take place at Amazon, where all of the models get at least 3 stars, with the more advanced models getting 4 stars.
Users like the fact that they are easy to put together and easy to use.  They are able to get good workouts and the motion is relatively quiet and feels very natural.
The Exerpeutics are very bare bones, especially the entry level models, so these are not for those looking for the latest technology or all of the bells and whistles.  The high-end model does offer a lot more, but we're not sure it is in the same league as comparably priced ellipticals from ProForm or NordicTrack.
Still, most users are quite happy with their purchase, although some issues with faulty parts have arisen, which is to be expected at this price point.
What We Think About Exerpeutic
Although we don't typically recommend elliptical trainers under $500, the Exerpeutic elliptical trainers are prefectly serviceable for those looking for a very basic machine to work out on and get into shape.
If you can, opt for one of the pricier models as they give you more in terms of resistance levels, stride length and construction, but even the entry level Aero is OK for what it is.
While you are looking at Exerpeutic check out Stamina and Sunny Health & Fitness as well.  Those are two brands that offer ellipticals in the same price range, and you might find that one of those models appeals more to you.
Get more info and special sale pricing on all of these models here!
---