Fitnex Elliptical Trainers – Quality Construction, Excellent Design

Fitnex Elliptical Reviews
Innovative style and high quality sums up what you get in Fitnex elliptical trainers. The sleek lines and sweeping profiles set these striking machines apart from the pack.
About the Company
Launched in 2003 to promote its own products, Fitness Master Inc. (FMI), located in Dallas, Texas, has a number of quality brands in its stable including Fitnex (Light Commercial and Home Products), Aristo Commercial, XSeries Bikes, Steelflex Strength, and Power Master.
The company is headed by fitness equipment industry veterans Eric Dick and Ed Banasky, who have 25 years of experience in the design and distribution of commercial, home, and specialty fitness equipment.
Prior to their own branding, FMI manufactured cardio fitness equipment for some of the biggest names in the business. Their engineering and marketing efforts are now used to make their own line of equipment, which they offer direct to consumers in order to provide the best value in factory-direct pricing.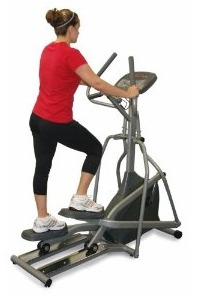 Along with Fitnex elliptical trainers, the company also makes treadmills, exercise bikes, and abdominal machines. Fitnex is a quality manufacturer ranking among other elite brand names such as Body Solid, Landice, and Magnum Fitness Systems.
About the Ellipticals
The company produces two stylish front-drive trainers: the light commercial E70 and the compact E55SG for home use.
The Fitnex E70 elliptical is a self-generating machine that doesn't need to be plugged in. It has a 19" stride length, forward and reverse directional movement, pulse sensors built into the handlebars to control the heart rate program, and supports a 400-lb max user weight.
Compare Fitnex Elliptical Trainers at Amazon
The compact Fitnex E55 is also a self-generating model designed to fit anywhere, making it a perfect choice for any apartment or home gym. It offers 15 challenging programs including heart rate control, wireless HR monitoring, 16 levels of resistance, and a 7-degree incline.
No Frills, More Quality
Fitnex does not add the excess features that are found on same-priced ellipticals – features you may not want or need that only serve to drive up the price. Instead, the focus is on the quality construction and excellent design – the two features that set Fitnex elliptical trainers apart from a crowded market of cardio machines. As one of the most experienced and largest equipment manufacturers in the world, FMI builds value into its stylish machines and prices them right. The excellent warranty backing each elliptical gives you peace of mind that you are buying the best.
Click here to write your own review!
Fitnex Elliptical Model Reviews
Fitnex E55 Elliptical Trainer - A smooth front-drive machine that has a space saving footprint yet offers a roomy 20" stride.
Fitnex E70 Elliptical Trainer - One of the best cross-trainers you've never heard of. It is built like a tank and offers silky smooth elliptical motion.
---