Tony Little's Gazelle Edge – A Simple Glider
The Gazelle Edge is an exercise glider you may have seen advertised in late night infomercials. It's not really an elliptical machine by any stretch but people get drawn in by the cheap price and the wild claims of effective workouts.
What You Get
The feedback display on the fitness computer shows speed, distance, time, and approximate calories burned. The console requires two AAA batteries.
The features of the Gazelle Edge are: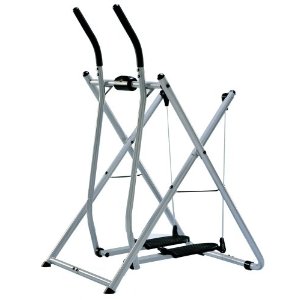 Foam-covered handlebars
Non-skid Foot Plates
250-lb. User Weight Capacity
The Word on the Street
Tony Little's Gazelle Edge is a very simple glider.  There are no built in workout programs, no resistance levels, no real elliptical pattern...just a simple back and forth motion.
The electronics are pretty lame: you won't be the first person to wonder how the feedback can have anything close to an "accurate" measurement for distance and speed, much less the number of calories burned. At least the time is accurate.

Check out the popular Gazelle Edge on Sale at Amazon Now!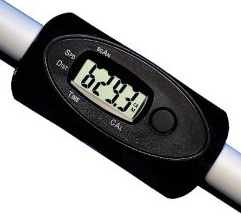 User reviews give the Gazelle thumbs up for being easy to use, but for cons, they remark that there is no real toning achieved and the heavy frame makes it hard to move.
There are a number of 5-star reviews that rave about it, but the comments tend to be written right after they've used the machine for half an hour, and not after a few weeks or months once it has really been tested. You should also expect the frame to start squeaking after a few uses but it should be fine with a few shots of WD-40.
How Does the Gazelle Edge Compare to the Supreme and Freestyle Machines?
The main question we get about the entire series is "Does the Gazelle give you a good workout?  That is to say, can you burn calories, lose weight and tone up?
Well, if you do anything long enough, you can definitely burn a lot of calories...but the Gazelle lineup is just not the most effective way to do that.
Comparing the Gazelle Edge to the Freestyle and Supreme, you'll find that all three gliders are very similar.  There are however some differences worth mentioning.
The Gazelle Edge is the entry level model, also the least expensive at around $129.  You can do 6 exercises, and it comes with a very basic computer, 1.5" rolled steel construction, wide no-skin foot platform, foam covered handle and a nutrition/meal planner and workout DVD.  It has a max weight limit of 250 lbs.
The Gazelle Freestyle is a slight step up from the base Edge, at around $199, with the ability to do 10 exercises, thumb pulse heart rate, 2.0" rolled steel construction, a water bottle with holder and an additional workout DVD.  The Freestyle ups the weight limit to 300 lbs.
The Gazelle Supreme is the top of the line model, if you can even call it that.  At a cost of around $299, this one has all of the features of the Freestyle, with grip pulse instead of thumb, a dual pivot system, soft glide technology, power pistons and even more workout DVDs.
All of the Gazelles fold for easy storage, and are roughly the same size...definitely compact enough to fit into any gym environment, regardless of size.
They also all come with the same 1 year limited warranty, which is pretty pathetic as well.  We didn't expect too much more at this price level, but whenever an elliptical comes with only one year of coverage we get a bit skeptical.
Definitely opt for the additional coverage on the Gazelle Edge or other models if you do decide to purchase one.  You can oftentimes get 2 or 3 year protection for under $25...it's well worth it on a machine like this.
Our Thoughts on the Gazelle Edge
The Gazelle Edge is sold online for $89 to $139, but we can't see why they charge that much for this simple frame, a set of pedals, and dinky computer.
While you can't get any more basic than this infomercial product we still wouldn't buy it. Unfortunately, there is no decent elliptical made that sells for under $300, except for base-only pedal stepper machines that require balance and coordination, as well as a high tolerance for boredom.
However, if you are overweight, have balance issues, and can't spend more than $140, you might consider an upright bike with moving handlebars like the Body Rider Fan Bike. 
It's noisy but cheap, and offers enough cardio burn and resistance to get the weight off.
Also look at the Freestyle and Supreme gliders, which give you a little bit more but not much.