Gold's Gym Ellipticals are Budget Machines with Mediocre Reviews
Gold's Gym ellipticals have been relatively popular over the years, mainly because they are low-priced and could be found in many retail stores, including Walmart and Sears.  However, quality has declined in recent years and recent customer reviews reflect this.  Therefore, you may be better off looking elsewhere.
A Brief History of the Brand
Everyone's heard of Gold's Gym, THE place for serious bodybuilders founded back in the mid 60's by fitness guru Joe Gold.  The gyms are still quite popular today, with more than 700 locations all over the world, including the United States, Canada, India, Russia, the UK, Egypt and Peru, among others.
Despite its size, Gold's Gym International, Inc. has been privately owned since 2004 by TRT Holdings, a holding company founded by Robert B. Rowling.  The company also owns Omni Hotels.
As far as the exercise equipment is concerned, TRT Holdings licenses the Gold's Gym name to ICON Health & Fitness, the world's largest manufacturer with brands such as NordicTrack, ProForm, Freemotion, Healthrider and Reebok, among others.
All of the Gold's Gym ellipticals, treadmills, bikes, strength equipment and accessories are manufactured by ICON Health.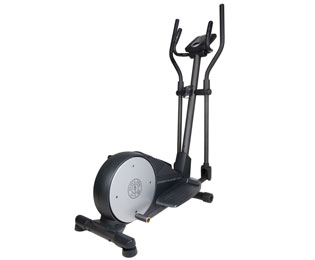 A Look at the Current Golds Gym Lineup
Golds Gym elliptical trainers are considered entry level budget models, i.e. very basic machines intended for very light usage.  There are currently two models ranging in price from $299-$399:
Golds Gym Stride Trainer 350i
The latest base model is the 350i, with a large LCD display, 14" stride, 12 resistance levels, 8 built in workouts, grip heart rate monitoring and a 250 lb. max weight capacity.
Golds Gym Stride Trainer 450i
Stepping up to the 450i you get a 17" stride, 14 resistance levels, 14 workouts, a CoolAire fan and an iPod compatible sound system.
Both models are iFit Bluetooth Smart enabled, meaning you can tap into ICON Fitness' unique interactive programming that gives you unlimited personal trainer workouts, Google map integration, nutrition plans and much more.  All you need is a subscription and a tablet or smart phone to take advantage of it.
Those are the current Golds Gym elliptical trainers. You might see some older models for sale, so just in case you come across those, here is some information:
Some of the older models you may come across...
The previous base model in the series was the Stride Trainer 310, which retailed for about $250.  It has a fixed stride length of 14", a basic LCD display, pulse heart rate monitor, 6 personal trainer workouts and 10 different digital resistance levels.  It has a max 250 lb. weight capacity.
Stepping up the ladder you had the Stride Trainer 380, at about $300-$400, which gives you a 14" stride like the 310 and 6 personal trainer workouts and SMR resistance.
At the top of the lineup you have the Stride Trainer 410, which will cost you about $450 or so on sale.  In addition to the basic features of the 310, it has an 18" stride, 12 workouts and 12 resistance levels, as well as music port/sound system and iFit workout card technology, giving you additional workouts.  (Cards are sold separately however)
Prices seem to jump all over the place depending on where you look.  Sometimes the 380 is more expensive than the 410, which doesn't make much sense.  The prices tend to be the best on Amazon, although the official site occasionally has better deals.
Should You Buy a Golds Gym Elliptical For Your Home?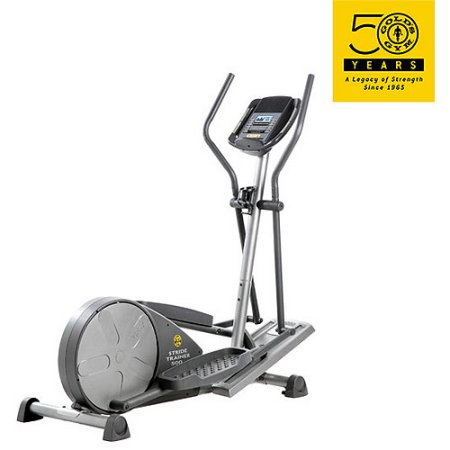 We really don't recommend any ellipticals under $500 for anything but the most basic usage.  The Golds Gym ellipticals used to be much better, and carried higher price points, but they've really fallen far since their hey day.
Both the 350i and 450i, as well as some of the recent models that are still being sold, are simply not worth the money, as you really don't get much.
You're much better off spending a few hundred dollars more and getting a ProForm or a NordicTrack elliptical.  You'll get much sturdier machines, with heavier flywheels, longer strides, more built in workout programs and much stronger warranties.
Think about it.  Would you rather spend $399 on a Golds elliptical that you'll hate using and will likely break down, or $599 on a ProForm elliptical with loads of programs that lasts for 5-10 years?  It's a no brainer.
So bottom line here, save your money and look elsewhere.  You'll thank us for it!
Our Thoughts on the Stride Trainers
We don't love the Golds Gym elliptical machines, for the simple reason that they just aren't great machines.  The 350i has a paltry 14" stride, which just isn't long enough to provide a natural motion even for average size people.  The 450i has a 17" stride which is certainly an improvement, but taller users won't be comfortable with that either.
With so many brands to focus on, including their popular NordicTrack and ProForm lines, it seems ICON isn't paying too much attention to this one, as nothing has changed despite numerous consumer complaints about quality and lack of features.
You can check out the link above to Amazon and see the ratings on the Golds Gym ellipticals. They top out at 3 stars out of 5 for one of the models, with the others at 2 stars or less.  That's pretty bad.  There are plenty of other budget brands that get much better ratings.
Our suggestion?  Bump up a couple of hundred dollars and look at the popular ProForm ellipticals. For example the Endurance 520E is only $599 on sale and lightyears better than any Golds Gym elliptical.  You also have the Smart Striders and the Hybrid Trainers, both at the same price and much better than Golds.
Bottom line, for very basic, occasional workouts these ellipticals are OK...for anything else you need to look elsewhere.