The Ironman 130E Elliptical Trainer - A Well Constructed Beginner's Model
The Ironman 130E elliptical trainer is the low-end entry into the market for the Ironman label. It's a manual elliptical machine (no power supply necessary) that's stripped down to the basics for around $350.
What You Get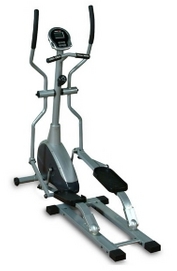 You're getting a back-to-basics piece of equipment with the Ironman 130E elliptical trainer. This machine doesn't have a lot in the way of extras, but it's solidly built for durability and the quality of the product is still there.
Upper body workout
Front flywheel
Pulse grip heart rate monitor
14" stride
LCD display console w/ scrolling window
8 resistance levels (manual)
Reverse action
Warranty: Lifetime frame, 1 yr. parts/electronics
UPDATE: The Ironman 130E elliptical trainer has been discontinued and is no longer being sold.  The new H-Class 610 and X-Class 610 are the only remaining ellipticals.  You can learn more about them here:
Compare Most Popular Ironman Ellipticals On Sale at Amazon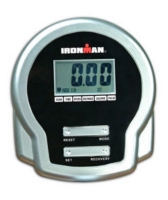 The Ironman 130E is a compact, easy-to-move elliptical trainer with front end wheels so that you can transport it with relative ease. However, it doesn't have a power supply other than batteries for the LCD console. It also doesn't have pre-set programs and is limited to eight resistance levels that you set manually. As we said, it's stripped down.
The Word on the Street
Trainers are virtually silent about the Ironman 130E elliptical trainer. Perhaps because they just can't fathom paying less than a thousand dollars or more on an elliptical machine, they don't pay much attention to this price point in general.
Consumers really like this little gem of an elliptical trainer because the money they've spent has gone toward quality construction instead of bells and whistles.
Some who've purchased the Ironman 130E admit that they miss having a few pre-set programs, but say that for the price they think the Ironman 130E elliptical machine is a best bet because you get a smoother ride and more stable machine in exchange for the lost programming capabilities.
A few people actually preferred the manually adjustable tension, but this is admittedly a matter of preference.

Our Thoughts
The Ironman 130E is a beginner's machine, pure and simple. Manual resistance with only eight levels, a very basic LCD display and a stride of just 14" add up to a machine that's for individuals who are trying out elliptical cross trainers for the first time. Anyone who is looking for variety or options needs to look elsewhere.
That being said, this may be the best basic beginner's model we've seen in quite a while. It does everything it needs to do and does it very well – although the stride is short, the feeling of the glide is nice and smooth.
The Ironman 130E is a relatively heavy, well constructed piece of equipment for the price, too. We just hate an elliptical trainer that wobbles and shakes with every stride – this one doesn't.
For the price, the Ironman 130E elliptical trainer gives you reliable, strong performance with no frills. It also gives you performance without too much worry about repairs or breakdown. Not bad.
Show me other Ironman Elliptical Trainers