The Ironman 1815 Elliptical Trainer – Passable Marks for Price-to-Value Ratio
As an entry-level machine for beginners, the Ironman 1815 elliptical trainer is built with weak parts and is backed by a weak warranty. Are there warning bells going off here?
What You Get
The Ironman 1815 elliptical trainer comes with an LCD window on the console showing speed, time, distance, calories, watts, pulse, and resistance level. It comes with 12 pre-set programs plus 1 heart rate workout and 1 custom workout.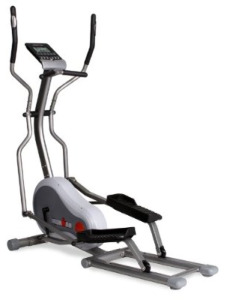 The features on the Ironman 1815 include:
16" Stride Length
12 Programs
16 Resistance Levels
Pulse Grip Sensors
Upper Body Handlebars
Front Drive
Unit wt / dimensions: 74.8 lbs/ 59 x 22 x 63 in
Front Transport Wheels
AC plug-in adapter
250-lb. User Capacity
Warranty: 2 years frame, 1 yr mechanical, 6 months electronics, 90 days labor
UPDATE: The Ironman 1815 elliptical machine has been discontinued and is no longer available.  The H-Class 610 and X-Class 610 are the only remaining ellipticals.  You can learn more about them here:
Compare Popular Ironman Ellipticals On Sale at Amazon
The Word on the Street
The Ironman 1815 elliptical comes with a belt-drive system, aluminum track wheel system, textured foot pedals, heart rate sensors in moving handles for constant heart rate feedback, and 12 pre-set programs with 16 levels of resistance.
This model has a short stride of 16" and is not recommended for anyone over 5'10". It isn't going to feel comfortable especially for those who have prior experience on large machines with longer 18" to 20" stride lengths.
Ironman ellipticals are known for putting the shorter stride on budget machines, which while surprisingly smooth, feels more like a stepper.
The Ironman 1815 elliptical is very light and easy to move around, weighing just under 75 pounds, but don't expect it to be a beefy machine that will take a lot of pounding.
Elliptical reviews give this trainer passable marks for price-to-value ratio, but overall, it feels like a cheap elliptical, lacking in adjustability, and made with cheap parts backed by only a 90-day labor warranty.
If it fits your budget, and you won't be on it more than five hours a week, it's probably one of the better deals you'll find at this price level.
Our Thoughts
Ironman makes solid but not flashy or spectacular ellipticals. Since the parent company Keys Fitness went bankrupt, Ironman has been taken over by Star Trac, which you know (if you spend any time in a health club) is THE top brand among high-end commercial ellipticals. Improvements have been made to the Ironman line-up and while the $1000+ Ironman machines are good value, let's hope that the commitment to quality will be put in the under-$1000 line.
For $399, the Ironman 1815 elliptical trainer is an okay buy, but you can get a better machine in a ProForm or a Schwinn in the $399-$599 range.
Show me other Ironman Elliptical Trainers