The Ironman 1850 Elliptical Trainer Gets Favorable Reviews
The Ironman 1850 elliptical trainer gives you the tools to get a nice low-impact cardio workout right at home. This is a good model from a company on the mend.
What You Get
The large LCD window displays time, speed, distance, calories, and pulse. Contact grip sensors on the handlebars let you monitor your heart rate during workouts.
The specs on the Ironman 1850 elliptical include: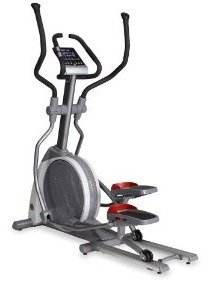 19" Stride Length
17 Workout Programs
16 Resistance Levels
Pulse Grip Heart Rate Sensors
Upper Body Handlebars
Front Drive
Unit wt/dimensions: 157 lbs/ 65.7 x 27 x 69 in
Transport Wheels
AC plug-in adapter
300-lb. User Capacity
Warranty: 50 yrs frame, 2 yrs mechanical & electronics, 1 year labor
UPDATE: The Ironman 1850 trainer has been discontinued and is no longer available.  The H-Class 610 and X-Class 610 are the only remaining ellipticals.  You can learn more about them here:
Compare Popular Ironman Ellipticals on Sale at Amazon
The Word on the Street
The Ironman 1850 elliptical trainer includes aluminum extruded rails with dual rollers to provide stability as well as minimize friction, and it has textured foot pedals for a secure non-slip surface.
It has a 12.5" step-up height and 3.5" distance between the pedals for a comfortable stance. The 19" stride is a good length for most people, but the user weight capacity is a bit suspect; we would say no more than a 250-lb user should be using the 1850 model regularly.
The Ironman 1850 gets generally favorable reviews for its solid design, general quality, and overall appeal. If you compare it to other ellipticals at $1299, it ranks okay but not outstanding, and you will have to justify buying an Ironman elliptical trainer over best-selling models. Still, if you get it on sale for under $1000, it might be a good deal.
Our Thoughts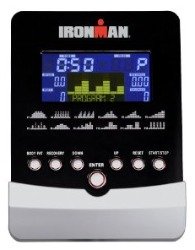 Since Keys Fitness went out of business and took Ironman down with it, there's some bad vibes toward Ironman especially concerning the warranties.
In the bankruptcy settlement, the warranties on all machines made before 2008 were declared void and owners were burned. The new owner, Star Trac, is reviving Ironman so perhaps the future is looking brighter, but it will take some time to rebuilt trust in this brand.
The Ironman 1850 elliptical trainer is an average machine, but if you are still interested in it, look for it to go on sale. Just don't pay full price for it.
Show me other Ironman Elliptical Trainers