The Ironman 250E Elliptical Trainer - A Quality Built Stylish Machine
The Ironman 250E elliptical trainer is a mid-priced elliptical machine from Keys Fitness that comes in at around $600 on sale (you can usually find it at this price if you check a few Internet sites). It provides some options that lesser Ironman ellipticals don't give you with the same solid construction.
What You Get
The upgrades features on the Ironman 250E trainer focus on flexibility for your workout, so if you get bored easily but still want to keep your elliptical purchase well under the thousand dollar mark, this is a model worth considering. Features include: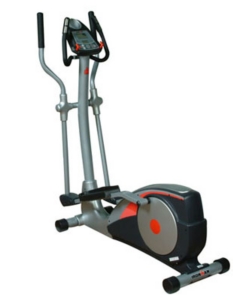 Upper body workout
12 pre-set programs
1 pulse rate recovery program
1 heart rate program
2 panel LCD consol display
Rear flywheel
Reverse motion
Magnetic brake system
14" stride
16 resistance levels (programmable)
Warranty: Frame lifetime, 1 yr. parts
UPDATE: The Ironman 250E has been discontinued and is no longer available.  The H-Class 610 and X-Class 610 are the only remaining ellipticals.  You can learn more about them here:
Compare Popular Ironman Ellipticals on Sale Now at Amazon
The Word on the Street
Fitness experts recommend checking out the Ironman 250E elliptical trainer because it allows you to program in 16 different levels of resistance.
This is a feature that helps you track your performance and keep on track with a steady improvement over time. The pre-set programs on the Ironman 250E have a good deal of variety as well.
The one reservation – the 14" stride, which can feel pretty confining. Some professionals said that the stride was the one thing that made this elliptical trainer a "no sale" for them.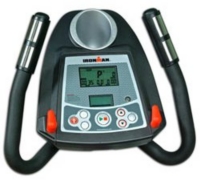 Buyers are generally satisfied with the Ironman 250E, saying the stride, while short, feels comfortable unless you're over six feet. It's surprisingly smooth and not as choppy as other elliptical trainers with such a short stride.
Our Thoughts
We wish Keys Fitness had thought it through before improving the resistance levels and adding the nice array of pre-set programs without lengthening the stride on the Ironman 250E elliptical.
We just don't get why companies consistently make this error in judgment. No elliptical trainer that offers this much in terms of product quality, options and style should be (literally) short-changing buyers when it comes to the stride length.
If you are a fan of the Ironman ellipticals in general and can afford a few hundred dollars more, take a look at some a few steps up the line; these have a longer stride than the Ironman 250E elliptical trainer. It makes them worth the extra money.
Show me other Ironman Elliptical Trainers