The Life Fitness X8 Elliptical Cross Trainer – A Dream Machine
One of the interesting features on the Life Fitness X8 elliptical cross trainer is an 18" to 24" electronically adjustable stride length for better recruitment of muscle activity. You can't get a great body by training comfortably and this machine has the tools to take you to a higher fitness level.
What You Get
The Life Fitness X8 elliptical cross trainer comes with a choice of consoles. The Basic Console at $3,999 has 5 essential workout programs plus heart rate readout, and the Advanced Console ($4,299) has 10 programs, 2 custom workouts, 2 user profiles, a race mode, HeartSync HR-controlled workouts, and a Polar® Wireless HR chest strap. Electronic readouts on either model include distance, speed, calories, level, time, heart rate, and Workout Profile display.
The full specs on the Life Fitness X8 Elliptical are: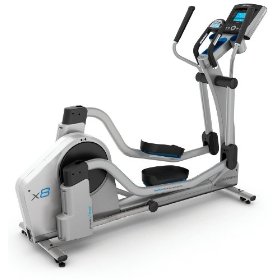 Eddy Current Resistance System
18" - 24" Whisper eStride™
20 Resistance Levels
ErgoGrip stationary handlebar
Contact HR sensors on handlebar
Oversized pedals with FlexPedal Technology
Minimum step-up height – 10 inches
Unit wt/dimensions: 235 lbs/ 83 x 26 x 63 inches (LxWxH)
400-lb. user weight capacity
Warranty – lifetime frame; 10 years resistance system; 7 years parts; 1 year labor
The Word on the Street
UPDATE: The X8 elliptical has been discontinued and replaced with all new models.  Check out all of the latest trainers on sale here.
The Life Fitness X8 elliptical cross trainer comes with a good warranty (7 years on wear items and parts) and a big 400-lb user capacity. The variable 18" - 24" stride length electronically adjusts while you're working out. For example, the console-controlled LegSculptor™ Mode gradually increases the stride length by 2" every 2 minutes for a powerful leg and trunk workout.
The Life Fitness X8 elliptical also comes with the closest pedal spacing in the industry (1.75" apart) for a natural ellipse motion. As for the choice between the two consoles, the decision is fairly simple: go with the basic if you tend to choose a Manual workout the majority of the time; or buy the Life Fitness X8 cross trainer with the Advanced Console if you love to train with a variety of programs and will use the hands-free wireless HR monitoring.
Life Fitness is the number one brand of fitness equipment installed in health clubs for a reason; they excel in fields like biomechanical research, force analysis, and product design.
The Life Fitness X8 elliptical cross trainer is unsurpassed in quality, scoring well above average to near-perfect in elliptical reviews in all critical areas including adjustability, low noise level, value, durability, ergonomic stride pattern, programming, and attractive design.
Given this level of superior engineering and all the research that goes into these machines, it's hard to find an unhappy Life Fitness owner.
Our Thoughts
The Life Fitness X8 is the best elliptical you can buy for $4,000. However, there isn't a home residential trainer out there that is really worth spending $4K, when you consider that a $3000 unit can offer everything you need in terms of in quality, value, and performance.
You can also review the LifeFitness X5 at $3,299, which has a manual 18" - 24" StrideSelect feature, but if money is not an issue, this rear-drive elliptical is it — a dream machine. The Life Fitness X8 Elliptical cross trainer is top-of-the-line, even better than the Precor EFX 5.31 and any of the Octane machines.
Show me other Life Fitness Elliptical Trainers