The Merit 725E Elliptical Trainer – Beginner's Model with Additional Features
Although the Merit 725E elliptical is an attractive beginner's model that has some decent features, it doesn't earn a top place when compared to other budget ellipticals.
What You Get
There are two LCD windows with a dot matrix display on the console that show readouts for time, distance, speed, and calories burned. Preset workouts include manual, intervals, rolling hills, weight loss, fat blast, cardio burn, tempo, and random. The console is powered by a 6-volt power pack.
The features of the Merit 725E elliptical include:
16" Stride Length
Magnetic Resistance - 10 Levels
8 Programs
0 – 5% Incline
Pedal Spacing – 6.9 inches
Upper Body Workout Arms
Contact Pulse Rate Sensors
Pivoting Footpads
10-lb Flywheel
275-lb. User Capacity
Unit wt/dimensions: 114 lbs/ 59" x 23.5" x 66"
Warranty: 5 yrs frame, 3 yrs brake, 90 days parts and labor
UPDATE:  It looks like Merit Fitness no longer makes new elliptical machines.  If you are looking for a good budget elliptical check out Exerpeutic, Stamina and others here:
Amazon Elliptical Superstore - under $500
The Word on the Street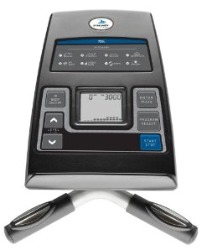 The Merit 725E elliptical features electronic resistance adjustment with a 1 to 10 range, an incline up to 5%, a 10-pound front flywheel, and a 5-groove Poly-V drive belt.
It also has pivoting footpads to improve foot comfort, EKG handgrips under the console, and a 16" stride length. The short 90-day parts warranty is the norm for a low end elliptical – so be forewarned that these things aren't built to last.
Reviews by owners of this model have been mixed, which is fairly typical when judging the value of cheap ellipticals. While some people had expectations that were far too high, most people say they are satisfied with the quality and ride of this budget machine.
Larger users have warned that it will wobble if you exercise too hard on it, and that the 275-lb user max weight is over-stated. Basically, the Merit 725E is a light machine for light people doing light workouts.
We would say the user should not be more than 175 pounds, and even that is pushing it.
Our Thoughts
The company that makes the 725E, Merit Fitness, is part of Johnson Health Tech, which is one of the largest manufacturers of fitness equipment in the world. (They also make Horizon ellipticals.)
The difference between the Merit 725E elliptical at $399 and the cheaper model, the 715E at $349, is the power pack instead of a battery-operated console, powered resistance changes vs manual adjustment, and the 5% incline.
Neither of these Merits have specs that exceed competitor models. If $400 is your limit, you should check out the Horizon EX-57 or the Proform 6.0ZE. Those have heavier frames, 18-inch stride lengths, and larger flywheels.
Show me other Merit Elliptical Trainers