The Precor EFX576i Elliptical Crosstrainer – Buy Reconditioned and Save
The Precor EFX576i Elliptical Crosstrainer is a lightly reconditioned machine offered by Big Fitness. As a used commercial model, they are refurbished to the point where they are "like new." Since Precor ellipticals excel at durability and long life, and have very few service calls, these well-made machines are an excellent buy whether you purchase them new or as reconditioned units.
What You Get
The Precor EFX576i Elliptical Crosstrainer features 14 workout programs including Manual, 2 Intervals, 4 Variety (Cross Country, 2 Glutes, 1 Custom), 1 Heart Rate Control, 1 Weight Loss, and 5 Performance (Hill Climb, Fitness Test and 3 Cross Training). The CrossRamp Technology provides 20 resistance levels with a 13° to 40° ramp incline to work all the muscles in the legs and trunk.
The Precor EFX576i's full list of features is:
20 Resistance Levels
14 Programs
CrossRamp 13 - 40 degrees (adjustable)
21.2" Stride Length
Upper Body Workout Arms
Contact Heart Rate Monitor on Handlebars
Adjustable, rear-leveling feet
350 lb. user weight capacity
Self Powered (No Outlet Necessary)
Warranty varies on remanufactured models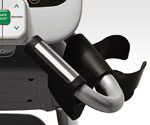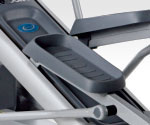 The Word on the Street
The machines in the Elliptical Fitness Crosstrainer (EFX) series from Precor have the reputation of delivering quality daily workouts year after year. In fact, many owners of the original EFX544, the first design that debuted in 1995, are still enjoying their machines almost 15 years later.
The trainers are designed for heavy-duty use in health clubs so they are made with superior components (such as no-maintenance sealed bearings, self-lubricating bronze bushings, over-sized axle, and double polyurethane wheels) for continued performance and reliability. In addition, this 338-lb machine gives one of the smoothest rides in the business.
UPDATE:  The 576i is no longer being produced but you can find a few remaining on Amazon or check out all of the Newest Precor Ellipticals on the official site.

Refurbished models such as the Precor EFX576i elliptical were used in a commercial setting (such as a health club or collegiate fitness center) for 2 to 3 years. During their makeover, worn parts were replaced, a new powder coat finish applied, and the machine was thoroughly detailed and tested.
The warranty is short on reconditioned units, but that's the only hitch. But aside from that, you will save $1500 on a high quality crosstrainer that doesn't normally break down or require extensive servicing like some other brands.
Our Thoughts
Personally, we don't like the location of the narrow moving handlebars on the Precor EFX576i — you can't lock them at the front, and they can hit you in the arms if your hands are holding on the fixed center bars. A small woman might not notice this problem, or perhaps a user who consistently uses the arms all the time won't care. Other than that, the EFX576i is one of the best high-end Precors ever made and elliptical reviews have always been positive.
The Precor EFX576i Elliptical Crosstrainer sells for about $5,000 new, or around $3,495 as a used model. (Again, once they are refurbished they are, literally, "like new.") If you've worked out on one of these at your local club and have been hoping to get one for your home gym, this is your best chance to snag it at a decent price.
Show me other Precor Elliptical Machines