A Reading Rack for Elliptical Trainers – Not Always a Standard Accessory
Avid exercisers know that having a reading rack for elliptical trainers is a standard accessory if you want to read a book or magazine during a long workout. Control panels on elliptical trainers were not designed for reading while pedaling, so it was left up to a few crafty designers to come out with a simple reading rack that is functional, affordable, unbreakable, and one that can be used on virtually any piece of cardio equipment.
More than the water bottle holder, the reading rack for elliptical trainers is the one accessory that most home gym owners wish the machine had come equipped with. Fortunately for all of us, the aftermarket in these reading racks offers a variety of sizes and styles for our elliptical trainer.
Let's take a look at some of our preferred models: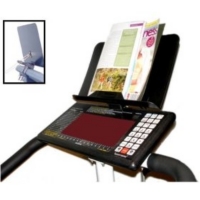 Savage Center Reading Rack ($29.99 - Dimensions: 15"L x 3"W x 10"H) This universal reading rack clamps to the top of the elliptical trainer's console, not covering the information on the display like most rack designs, which means you still have full access to the controls. It comes with a steel slider and clamp which provides 90 degrees of adjustment and minimizes vibration. It can attach to display consoles up to 4" thick. The front lip of this reading rack is a bit shallow at only 1" deep, which is not enough to hold open a thick paperback.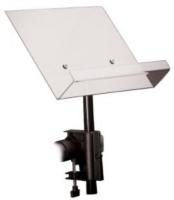 IronMan Deluxe Reading Rack ($29.99) Ironman's universal design uses a clamp with tilt, turn and height adjustability to move the reading material out of the way to better access the console. The clamp fits on the bottom of the elliptical trainer's console so if you feel this might damage your machine, check out the Up and Over Rack below.
Compare Popular Reading Racks At Sale Prices Here
Up and Over Rack ($26.99 - Dimensions: 8.5"H x 11.75"W) This is a clear plastic reading rack for elliptical trainers and other fitness machines. It easily hooks over the top of the monitor although the hook is a bit narrow (2.25") so you'll need to measure the depth of the top of your elliptical's console before ordering this one. Otherwise, you'll enjoy the fact that the 1.75" shelf holds just about any thickness of book - so go ahead and rack up that hefty textbook and get your butt in shape.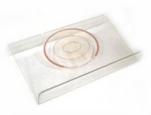 Treadmill Doctor Reading Rack ($24.99 - Dimensions are 13.5" x 8.5" x 3") This is another clear plastic design that slips over the face of the console. It's made by Treadmill Doctor, the authority of all things treadmill, but this rack will work on elliptical trainers as well as recumbent bikes and steppers. If you're not a reader, these handy racks can also be used to hold your MP3, phone, glasses, or remote control in the tray.
This is just a sampling of the type of sturdy reading rack for elliptical trainers that you'll find on the market. The price is reasonable and most of them are absolutely unbreakable. Just make sure to check the dimensions before you buy, as "universal" and "one-size-fits-all" are sales pitches and some reading racks may not fit your elliptical machine.