Reconditioned Elliptical Trainers – Commercial Quality, Lower Price
Reconditioned elliptical trainers are a relatively small market, but a great bargain if you want a top-notch machine. If you've been spoiled by years of working out at the gym on elliptical trainers that are premier quality by brands known for their exceptional machines, you may have a hard time finding a retail elliptical that you're happy with. Something like the Precor EFX 556 elliptical trainer, specifically designed for gyms and health clubs, can be purchased reconditioned for discounts of up to 40%.
What You Get
Reconditioned elliptical trainers are essentially the exact same machines that you use in the health club. They are sold used, but are first completely de-constructed and all the parts are carefully cleaned, inspected and reassembled. Any small parts such as nuts and bolts are replaced with new ones, and the entire machine is oiled and serviced. Usually you get a limited warranty through the reseller.
The Precor EFX 556 is one of the most popular elliptical trainers sold reconditioned. Features include: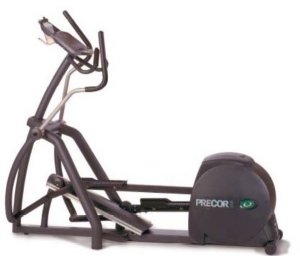 Upper body workout
Reverse motion
25° incline
Upper body workout
Ergonomic handlebars
Cross Ramp technology
Accessory holder
20 levels of resistance
8 pre-set programs
LED display console with graphics
18" stride
Quickstart programming
Optional wireless heart monitor
Warranty:
New: Lifetime frame, 10 yrs. parts, 1 yr. labor
Reconditioned: Varies from 1 week to 1 yr.
Check out the latest Precor elliptical trainers here!
The Word on the Street
Professional trainers recommend the Precor EFX 556 to anyone who is looking for a reliable, serious workout. This is a machine for the true weekend warrior or serious athlete. The 25° incline and variety of workouts with variable resistance provide more gluttial, flexion and extension workout than any other new or reconditioned elliptical machine available.
Consumers point out that even as reconditioned elliptical trainers, these machines are incredibly quiet because they don't have a motor. The Precor EFX 556 is self-propelled, ensuring an intensive, realistic workout that still feels smooth and relatively effortless for the amount of calories burned.
Our Thoughts
Because Precor is the leader in the commercial elliptical machine industry, it seems natural to look for reconditioned versions of these impressive machines. Usually we hesitate to recommend used exercise equipment, but for Precor we'll make an exception. By purchasing reconditioned elliptical trainers like the Precor, you'll save thousands of dollars and still get an outstanding machine. The limited warranty isn't much of a concern because the EFX 556 elliptical trainer is built to last for years in a health club situation, so performance in your home will be easy.
Show me other Precor Elliptical Machines