Remanufactured Elliptical Trainer Bargains – Precor EFX 544 is a Good Choice
You can't beat a remanufactured elliptical trainer for combining health club quality with savings. The Precor EFX 544 is one of the more popular remanufactured machines because Precor makes such a top-notch product. Even if the machine is a few years old with plenty of use in a commercial environment, you're going to get several more years out of it with minimal problems.
What You Get
The Precor EFX 544 provides lots of health club features that you just can't get on an elliptical machine built for in-home use. It's what makes a remanufactured elliptical trainer so popular – the almost indestructible design, features designed to take a beating and programs and monitors designed for serious fitness buffs, like: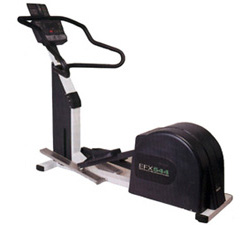 Adjustable incline from 10-25°
20 resistance levels
Reverse motion
Cross Ramp technology
Adjustable foot pedals
LED display console
Electronic touch key operation
Wireless heart rate monitor
Check out the latest Precor ellipticals on sale here!
The Precor EFX 544's wireless heart rate monitor has a color indicator that shows you whether you are above, at, or below your target training zone. There's an indefinable difference in feel between a commercial grade and an in-home elliptical trainer that you can't really put to words, but whatever it is, plenty of people notice it enough to prefer a remanufactured trainer to a new machine for home use.
The Word on the Street
If you have fallen in love with the superior quality of your gym's commercial Precor EFX 544, any elliptical trainer designed for home users may come up a bit short. Most people can adjust quickly, but many trainers are so finely attuned to differences in machines that they will settle for nothing less than the original. If they have the space at home, they will invest in a remanufactured machine in a heartbeat rather than "settle."
Consumers are less apt to make the purchase unless they've been training for a while. If you're new to elliptical training, you may not miss the advantages of a commercial grade piece of equipment. Some buyers who've been spoiled at the health club, however, fall in love and buy a remanufactured elliptical trainer such as the Precor EFX 544 to get that health club feel without the long wait in line.
Our Thoughts
We have to tell you, it's hard not to love Precor ellipticals, whether remanufactured or new. These are the caviar of the industry and you can't do better. If you decide to buy a used elliptical machine, check out several suppliers and compare prices and warranties, which will vary on remanufactured models. You should be able to get a Precor EFX 544 elliptical machine for around $2,300 with a limited warranty. With this brand, you don't have to sweat the warranty too much because a remanufactured elliptical trainer by Precor is built for the long haul.
Show me other Precor Elliptical Machines