The Schwinn 520 Reclined Elliptical Appeals to a Specific Niche Market
The Schwinn 520 reclined elliptical is an elliptical machine that uses AirDyne technology in a recumbent elliptical trainer. Currently listed at $1000, you can usually get it for under $500.
What You Get
The Schwinn 520 offers infinite resistance levels using AirDyne technology and three lower-body workouts. The LCD console, set to the side so that it isn't intrusive, scrolls the time, calories burned, speed, distance, rpm and heart rate.
The specs on the Schwinn 520 reclined elliptical include: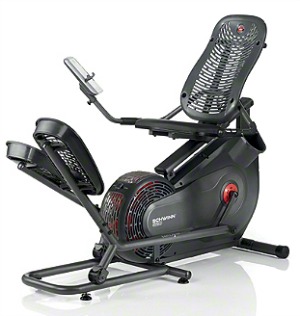 14" elliptical path
3 Workout Programs
Infinite resistance levels
Adjustable handlebars
Contoured, ventilated seat back for comfort
Oversized, adjustable foot pedals
300-lb. User Capacity
Dimensions/Wt: 61.7"L x 28.3"W x 40.2"H / 88 lbs
Warranty: 5 years on frame, 1 year parts & electronics, 90 days on wear parts and labor
Find the Best Deal on the Schwinn 520 Reclined Elliptical
The Word on the Street
The Schwinn 520 reclined elliptical appeals to a specific, niche market: individuals who want to work their lower bodies but who can't or don't want to remain standing during a workout.
Reviews by trainers and physical therapists recommend this machine for people who have injured their back or those who need to concentrate on the lower body. Reviews are predominantly positive, although there aren't a lot of them posted yet because this is a relatively recent offering by Schwinn.
Reviewers noted that although there are only 3 pre-set programs, users can easily set up their own distance, time or calories burned goals to stay motivated. A few reviews pointed out that with limited programs and no MP3 capability, using the 520 reclined elliptical could get tedious.

Our Thoughts on the 520 Recumbent
There aren't a lot of good quality recumbent elliptical machines on the market, which makes this affordable model a good investment if you have limitations that require the use of a recumbent machine. The elliptical path is what elevates the reclined elliptical above any comparable recumbent bike - you're using more muscles, so you get a more efficient workout.
Although Schwinn equipment is generally a solid bet for in-home users, we still feel like the warranty is lacking on the Schwinn 520 reclined elliptical.
A mere three months for "wear parts" tells us that the company isn't really interested in standing behind the machine. It's a shame, because this is one of the most effective and comfortable exercise options for those with physical limitations.
Show me other Schwinn Elliptical Machines