The Stamina 1773 Elliptical Trainer – There are Better Options
The Stamina 1773 elliptical trainer is a good-looking budget model designed for light workouts.
What You Get
The console display shows time, speed, distance, and calorie consumption, and also has a scan mode that shows each readout every four seconds. The monitor operates on two AA batteries (not included).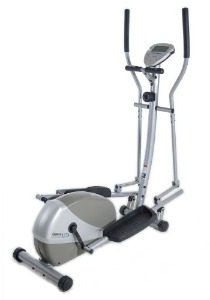 The features of the Stamina 1773 elliptical trainer include:
14" Stride Length
Magnetic Resistance
Tension Control Knob
Forward – Reverse Direction
Dual Action Handlebars
Heart rate sensors on stationary grips
Transport wheels
Dimensions - 55"L x 20"W x 60"H
Warranty: 3 years frame, 90 days parts
UPDATE:  The 1773 trainer has been discontinued and replaced with all new models.
Find great deals on the newest ellipticals here:  Stamina Elliptical Machines
The Word on the Street
The Stamina 1773 elliptical trainer also goes by the name of Stamina Magnetic Crosstrainer, and it is the exact same model as the Stamina 1772.
It has 8 levels of magnetic resistance, forward and reverse directions, non-slip pedals, and a flywheel of about 8 pounds. One of its limitations is the short 14" stride length which taller users may find uncomfortable.
Another issue is the weight capacity: despite its heavy steel frame, it is not stable enough for large users, and nowhere near the 250-lb user weight limit listed in the model's specs. It's a guess, but users should not weigh more than 170 pounds.
Overall, the reviews on this elliptical trainer are very critical: the worst of it is that the Stamina 1773 creaks and squeals and the pedals have been reported to break easily. Other issues: there are fingertip pulse sensors located on the stationary bars, but the pulse readouts are not that accurate.
This is a hit-and-miss technology in expensive ellipticals so don't expect it to work accurately in a cheap elliptical. The calorie countdown function is an estimate for an "average user" so don't expect it to be accurate either.
There is one odd feature on the console's electronic meter and that is a thermostat to show the temperature of the room. Why would they put a thermostat on an elliptical?
Our Thoughts
These types of $299 budget ellipticals are meant for light workouts. By light, we mean, 30 minutes per session tops, a few times a week.
If you are very gentle with it, if you keep the nuts and bolts tightened frequently, and if you don't weight much more than a leaf, the Stamina 1773 elliptical trainer might just give you years of use.
But for everyone else, there are better options out there for just a little more money, especially with a Schwinn or a Horizon.
Show me other Stamina Elliptical Trainers