Weslo Momentum G 3.8 Elliptical Review
by Kim T.
(Maine)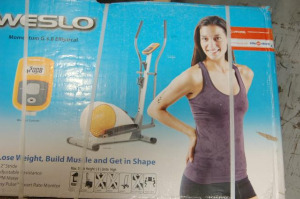 I was hesitant to buy the Weslo Momentum G 3.8 elliptical after reading reviews that indicate it was a noisy machine and that parts loosened too easily. I am happy to report that the Weslo Momentum G 3.8 is a quiet, well built elliptical trainer. It does take some time to assemble. It is important to read the directions a few times before attempting to assemble.

Overall Rating *****

Price ***** $177 @ Wal-mart

Assembly ***** Easy if you read the directions carefully

Sound ***** Very Quiet

Ease of Use ***** Very easy to use (If it seems difficult adjust your footing on the pedals. My 50 lb. 8 yr old can use this)

Effectiveness ***** A great workout!

Weslo Elliptical Reviews
Weslo Momentum 635 Elliptical User Review
by Terry
(Lancaster, PA USA)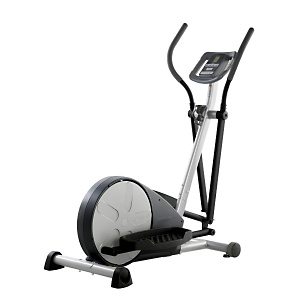 I got the Weslo Momentum 635 elliptical trainer used from a friend who rarely used it. However, in the time she did use it, she had to replace one of the arms that broke at the welds. In less than 6 months, the other arm broke at the welds and I had it welded on two different occasions, the second time having reinforcing rods placed to support the arms at the welds. A short time later, the support bar that runs from end to end of the trainer, collapsed at the welds! I took it apart and the welder rewelded the joints and added more support to the frame.

It worked great for a month or so, and now one of the rods that connects to the flywheel and supports the foot "pedals" has broken off. I'm not sure if I can get it welded back on or not.

My point is, I've owned a lot of exercise equipment over the years and never had a piece of junk like this Weslo elliptical trainer. I didn't need the bells and whistles of some of the higher priced elliptical trainers, but I did need one that is durable. If you are going to use it as a clothes rack, have at it...otherwise, the Weslo Momentum 635 is not worth the money.
WESLO, 220X Momentum, Is My LEG SAVER!
by Ed S.
(L.A., CA U.S.A.)
I own & use my Strider 5-6 days a week. I have not had a single problem.

As you state above, there is a tiny click noise, that I hear, however, because I have my TV on, or headphones, or buds, I have never even heard it until you mentioned it!

Not fancy, but it was well worth the miniscule pennies, I now have invested in it. Over the 3-4 years, my 25 cents a day, both have been a godsend for me!

It helped me soon after my leg was partially removed after Cancer! My entire fibula was removed, just after having surgery.
During my recovery, I had to use it daily. With its side foot, 2" sides, it helped me train my 1 boned leg & foot work again.
Many doctor's told me I would never walk again! My Weslo 220x Momentum, helped assisting retrain my muscles, so I could eventually put away my crutches, then cane, now I finally, can use small hill profiles, And I still use my Weslo 6 days a week, when ever possibly.

*****
I only found your website, when I was looking for a new model Weslo that had more features. Maybe angles etc.
So, if you have found me here, with dismay, I was now told, they may no longer make the strider!
*****

If I can find a new, higher functioned strider / elliptical, I'd enjoy one from WESLO, maybe a good sale?... thank you, E.S.