The Weslo Momentum 620 Elliptical – Not Recommended
The Weslo Momentum 620 elliptical is an affordable unit that offers digital resistance to allow you to increase the workout for a higher rate of calorie burn. You really do "feel the burn" and get a workout when you dial up the resistance. Its main drawback, apart from a short stride, is the obvious lack of quality, which most Weslo elliptical reviews remark on -- even when it's a positive review!
What You Get
The Weslo Momentum 620 offers an attractive, clear LCD display that shows your speed, time, distance, calories burned, fat calories burned, and pulse. The Target Pacer lets you know when you need to work a little harder or slow down. The list of specs includes: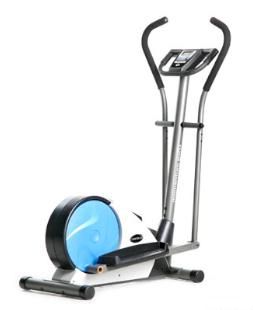 SMR™ Silent Magnetic Resistance
10 Levels of Resistance
2 Personal Trainer Workouts
Easy Pulse™ Heart Rate Monitor
13" stride
Oversized Cushioned Pedals
90 day parts and labor warranty
The Word on the Street
UPDATE:  As of 2016, it looks like Weslo is no longer making elliptical trainers.  
Take a look at our list of Best Ellipticals Under $500 to find a good machine in this price range.
Experts and trainers won't recommend the Weslo Momentum 620 elliptical due to the weak warranty, short stride length, and overall lack of quality. Furthermore, it's difficult to take apart to find and fix problems, and customer service takes a while to get parts mailed to you.
For the price, the Weslo Momentum 620 does have some unusual benefits, such as the expanded levels of resistance (when they work!), and you can simply place your thumb on the console to get a pulse rate (when that works).
Users have had mixed results with the Weslo Momentum 620. Even those people that generally like it and have lost weight using it have reported problems with a constant squeak that develops during the workout.
It's definitely an elliptical for a woman or a small person since the 13" stride is too short to do much good for an average sized man.

Our Thoughts
The Weslo Momentum 620 elliptical makes anybody in this business cringe. There are so many better options, so many better ways, to spend $259 on fitness equipment.
You could buy a nice set of free weights, including some first class dumbbells, and start a home weight gym. But that's not going to help your cardio training, is it? Alas, you just can't find a decent machine for under $300.
We recommend you save your money and spend a little more on a better machine, something like a HealthRider C550e or the Eclipse 1100HR elliptical, both of which are under $500.
Show me other Weslo Elliptical Trainers