The Weslo Momentum 730 Discount Elliptical Trainer
The Weslo Momentum 730 discount elliptical trainer is extremely easy on the wallet at around $180. It's a stripped-down, bare bones machine, but for beginners to elliptical exercise it may be a decent way to get started.
What You Get
The Weslo 730 is as plain and simple as exercise equipment comes, so the list of features is short, but there isn't anything missing that you have to have for a workout that will get you to break a sweat.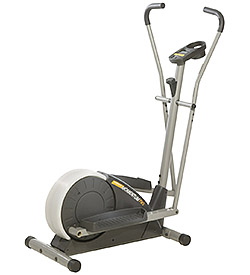 18" stride
Hand grip pulse monitor
LCD display console
Adjustable manual resistance
Added read-out: revolutions per minute
Warranty: 90 days parts & labor
The Weslo Momentum 730 discount elliptical trainer falls between their 610 and 750 models price-wise, but has a few features that make it unique. The most essential is the Revolutions per Minute read-out, which is nice if keeping track of things like this is a motivator for you.
The Word on the Street
UPDATE:  As of 2016, it looks like Weslo is no longer making elliptical trainers.  
Take a look at our list of Best Ellipticals Under $500 to find a good machine in this price range.
No one who's a professional is going to buy a Weslo because they all come in at well under $500.

For these prices, you're sacrificing substantial stability and range, which is too great a sacrifice for individuals who are extremely fit and need to be challenged. They would simply be too hard on a machine like the Weslo Momentum 730 discount elliptical trainer.
For buyers, this model seems to be the favorite of the four Weslo models currently available. The stride is a bit longer than on the less expensive models and touches like the padded handlebars and bottle holder are little extras people new to exercising like.

Our Thoughts
The small footprint and light weight makes the Weslo Momentum 730 a machine that isn't bad for an apartment or smaller home. It can be moved relatively easily and won't take up much space.
Of course, you'll sacrifice the quiet, smooth ride of a larger machine. This is a manual elliptical trainer, so you aren't getting any assist from the motor when working out. Good or bad? You decide.
If you're going to get a beginner's elliptical machine and can't spend much, this is the Weslo model we'd probably recommend.
It has a decent stride length and a few features that make your workout more enjoyable. So we give a reserved support to the Weslo Momentum 730 discount elliptical trainer.
Show me other Weslo Elliptical Trainers