The Weslo Momentum G3.8 Elliptical – Another Terrible Machine
The Weslo Momentum G3.8 elliptical by Icon Fitness is for unsuspecting budget shoppers who don't do their homework. Take our advice and don't be one of them.
What You Get
The LCD display window shows speed, time, distance, pulse and calories burned. The Weslo Momentum G3.8 elliptical has an RPM meter (revolutions per minute) so you can judge if you need to pick up the pace or slow down.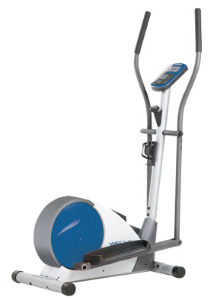 The specs on the G3.8 are:
12" Stride
Adjustable Resistance
Upper body workout handlebars
Easy Pulse™ Heart Rate Monitor
Rear flywheel
250 lb. user weight capacity
Transport Wheels
Water bottle Holder
Warranty: 90 days parts and labor
The Word on the Street
UPDATE:  As of 2016, it looks like Weslo is no longer making elliptical trainers.  
Take a look at our list of Best Ellipticals Under $500 to find a good machine in this price range.
This 89-lb weakling wobbles badly and cannot hold up to a 250-lb user so disregard that maximum weight capacity spec right away.
The Weslo Momentum G3.8 is tiny at 44L x 21W x 54.5H, and easy to move around, but beyond that, trainers and fitness pros don't have anything good to say about this elliptical trainer.
It's noisy and clunky and you'll have to retighten the bolts on the moving arms weekly, as well as grease the bushings. The heart rate monitor is not accurate, nor is the calorie counter.
The 12" stride length is not comfortable unless you are a very small adult, and even then it will be much shorter than you are used to if you've spent any time riding ellipticals.

If you have low expectations, then this Weslo Momentum G3.8 elliptical will (loudly) squeak along for a year and maybe you will be fine with it – as long as a peddle doesn't break or you don't hear any metallic grinding inside the flywheel cover.
But if you read that list of specs and expect things like "adjustable resistance," then you will be disappointed. The resistance doesn't dial to a more difficult level; in fact, some elliptical reviewers didn't notice much difference at all between low and high settings.

Our Thoughts
There's no such thing as a quality $199 elliptical out there and we honestly don't know why they continue to make these things.
The Weslo Momentum G3.8 elliptical has the same features as Weslo CT3.8 except the CT has a better overall aesthetic design but neither one of them can be recommended. Both of them are terrible machines.
You should spend a bit more and get a Schwinn, Proform, or NordicTrack. They have several models that offer reliability, a solid durable ride, advanced features, and a better warranty.
Show me other Weslo Elliptical Trainers