The Yowza Miami Elliptical Trainer - Take Your Workouts to New Heights

The Yowza Miami elliptical trainer is an all singing all dancing elliptical which takes technology and working out to a whole new level – one that maybe is a bit advanced for a home workout.
What You Get
What don't you get is probably a better title as the Yowza Miami comes with a whole host of features and add on's. There is an impressive stride length adjustment with a range of 19" right up to 32" which is one of the best selections on the market to cater to people of all sizes as well as an impressive 60% power incline range to really boost those workouts.
The best part of this elliptical is the technology that is used to help supplement your workouts. It is one of the first of its kind to include free proprietary apps which can connect to Bluetooth 4.0 as well as an added tablet rack.
Included on the large screen are a wide selection of workout options and resistance settings to increase or decrease your workout as you need. One fantastic feature is the IWM weight management system where you get a free set of Wi-Fi scales to keep your weight tracked as you work out. 
Main features of the Yowza Miami elliptical trainer: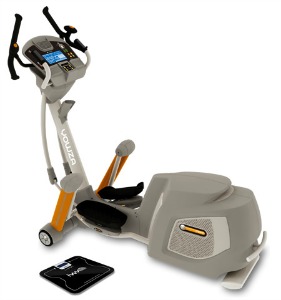 Rear drive with up to 60% incline

21 preset programs with 9 additional customizable options

Large console display with additional tablet rack

IWM weight management software

Surefit™ soft adjusting pedals

Fit sound speaker system

Super Core™ motion handlebars

Wheels for easy transportation

Bluetooth 4.0 supported

Built in heart rate receiver to be paired with chest strap

USB and 3.5mm jack to listen to your own music

Lifetime frame warranty, 7 years parts/electronics and 2 years labor
The Word on the Street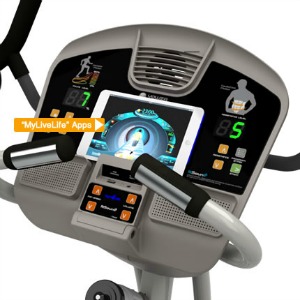 UPDATE:  As of late 2017 it appears as though Yowza may be out of business.  In the mean time check out our Best Ellipticals section for a comparable model.

The reviewers absolutely love the Yowza Miami elliptical mainly because it offers so many features and capabilities.
The main positives are its ability to use the IWM weight management software (just like on the Islamorada model) to track your weight progress using specific calorie trackers based on your actual pre workout weight.
The support of Bluetooth 4.0 and additional apps pre-installed gives this elliptical a huge technology boost. It's a great looking model and would fit into a health club, gym or simply as a home workout machine.
However, with all this tech comes a hefty price tag of about $2,800 on sale. You do get a lot of bang for your buck but there's hardly any bucks left after.
Still, with huge incline capability, wide stride length and a number of workout apps, as well as the ability to target your core muscles, it's quite unique and you'll be hard pressed to find an elliptical trainer that has all this, even at this price point.
Our Thoughts on the Yowza Miami
For an elliptical the Yowza Miami elliptical really does shine bright against the competitors and if you love technology this is the trainer for you.
However, we think it could be a little overloaded and scare off potential customers who are afraid of all the built-in functions – or those who like it but would hardly use the features are better off buying something a little cheaper.
If this is you, consider the Captiva or the Sanibel i35, which don't have as many features but have plenty to keep you 
The 7 year parts warranty is a fantastic add-on because it gives you confidence to believe in the engineering of the trainer.
Get more info and special sale pricing on this elliptical here