Front Driven Elliptical Trainers or Rear Drive - Which is Better?
Are front driven elliptical trainers as equally regarded in the fitness industry as the rear drive models are? They are often regarded as shuffle trainers and, depending on the model, you may have even used a forward drive machine that felt like a "stepper."
If you've paid attention to the expensive commercial monsters you've been using at the gym to get your butt in shape, then you've probably noticed they are not front driven elliptical trainers but rear drive machines. High end brands such as Precor and Life Fitness put the flywheel at the back which provides a truer and more natural heel-toe ellipse.
Different Approaches to Motion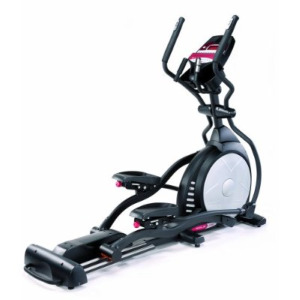 Let's look at two popular manufacturers who use different approaches to the motion: Sole, which use front drive; and Precor, which use a rear drive design. In our Elliptical Trainer Comparison Chart $1000 - $2000, you can see that Sole machines in the same price range each score very well for features, warranty and perks. Their main difference then, is the location of the drive train.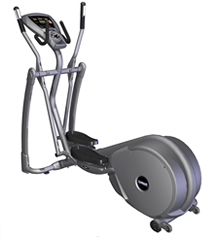 Some experts will tell you that the front driven elliptical trainers are more linear and thus produce a flatter oval motion. We've also found in our own reviews that when the front drive models lack articulating foot pads, the motion is not as smooth and elliptical as what we find in higher end models. Even worse, without the footpads inclined inward (Sole ellipticals are designed with a 2° foot pedal slope) , the flat position of your feet usually causes them to go numb after a long workout.
Another notable difference on front drive units is that users tend to move their weight forward, especially grabbing or leaning on the bars, in which case the front of the machine had better be stable or the user will notice some wobble. To overcome a lack of stability, makers of front drive elliptical trainers will use a larger flywheel in residential models to make the unit feel sturdier. A heavy flywheel will also contribute to a much smoother motion and stride.
Rear or Front Drive - It's a Personal Choice
But the most important point to remember is that rear drive models are more expensive to manufacture and the dominating companies in the field (Precor, and Life Fitness) have strong patents on these designs. Latecomers to the elliptical trainer market have no choice but to design front drives. These companies also have the advantage that, with the flywheel working at the back, they can add an angle ramp and adjustable incline onto the front of the machine — and that's what really tickles your fancy on your health club's machines. Nevertheless, front driven elliptical trainers with large flywheels such as the ones from Sole compare favorably to top brands using rear drive systems.
---
Return to Shopping Online for an Elliptical Trainer
Return from Front Driven Elliptical Trainers to the Elliptical Reviews Home Page