The AFG 2.0 AE Elliptical Trainer – Easy-to-Mount Design
The AFG 2.0 AE elliptical trainer is an entry-level trainer that offers a fluid motion, long stride length, and a beautiful design. With its generous warranty package, smooth ergonomics and value, this is an up-and-comer in the company's specialty machine lineup.
What You Get
The AFG 2.0 AE elliptical trainer has three large LED screens displaying your workout feedback at a glance. You can monitor your speed, heart rate, calories, and level, as well as follow your time and distance progress when you select one of the multiple programs including manual, intervals, weight loss, and custom.
Here's the specs on the AFG 2.0 AE elliptical: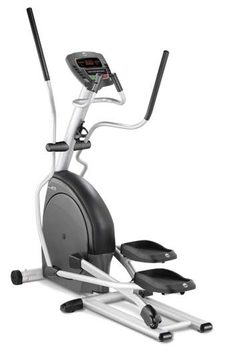 10 Resistance Levels
20 Programmable Workouts
Dual-Action Upper Body Arms
20" Stride Length
Contact Heart Rate Sensor
275 lb. user weight capacity
Pivoting Foot Plates
Warranty – 3 yrs parts; 1 yr labor; lifetime frame & brake
UPDATE:  The AFG 2.0 AE has been discontinued, and replaced with the upgraded 2.5 AE.  You can check it out here:
Most Popular AFG Ellipticals On Sale Now
The Word on the Street
The AFG 2.0 AE elliptical features a 14.5 lb flywheel, front drive design with magnetic braking system, 12-inch high pedals with 1.2-inch pedal spacing, and oversized and pivoting footpads.
The low entry height of the pedals makes this elliptical trainer as easy to mount as climbing a set of stairs. As far as weaknesses, the AFG 2.0 AE uses cheaper components, unfortunately, and its durability is still an unknown as far as long-term regular use is concerned.
Still, with the heavy flywheel, large 20" stride length, and fluid movement, it packs a lot of value for the price.
There aren't many elliptical reviews for the AFG 2.0, but users have given this model some good marks.
They like the simple controls, and the easy-to-mount design makes this a good machine for people new to elliptical training who would have trouble with a larger, rear-wheel model.
Our Thoughts
The AFG 2.0 AE elliptical is one budget model that makes you sit up and pay attention. It has an MSRP of $1,099, but we've seen it for sale online for hundreds less. But can the AFG 2.0 AE compete against a slew of heavy competitors in this crowded price class?
The bestselling NordicTrack and Horizon models have long established their reliability and performance, and are still better bets. While we find nothing wrong with the AFG 2.0 AE elliptical trainer, we didn't find anything particularly exciting about it either.
For our money, we would go with a solid proven performer, the Horizon EX77 Elliptical, over this one.
Show me other AFG Elliptical Trainers