AFG Elliptical Trainer Reviews – Heavy Flywheels Give Smooth Ride

AFG elliptical trainers are a specialty line of fitness machines from  Johnson Health Tech, a well-regarded company that may not sound familiar but ranks among the top five of the largest exercise equipment manufacturers in the world.

Advanced Fitness Group, which is a spin-off of another sub-company, Horizon Fitness, also makes treadmills, exercise bikes, and strength trainers.
Headquartered in Cottage Grove, Wisconsin, AFG designs and builds a line of about a dozen elliptical trainers ranging in price from $899 to $3100.
Let's jump into our reviews and see what the AFG machines have to offer...
The Current AFG Elliptical Lineup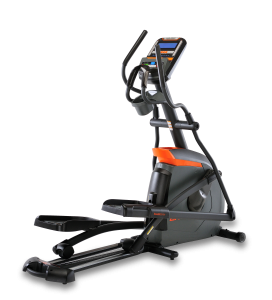 UPDATE: AFG is no longer selling products and has been rebranded as Horizon Fitness. Check out our Horizon elliptical reviews here.
------
AFG does a lot of things right in terms of advanced programming and performance tracking technology, but they also believe in including the heaviest flywheel they can - yet still control the price.
AFG's front-drive elliptical trainers are mounted with 14.5 to 30-pound flywheels (depending on the model) to give you the smoothest elliptical motion you'll find.
AFG ellipticals even include some very important comfort features such as pivoting footpads, as well as handlebars for upper arm workout.
The current lineup includes the 2.5AE, 3.5AE, 3.1AE, Sport 2.7AE, 4.1AE, 18.1AXT, 5.7AE, 3.3AE, 5.3AE and the top-of-the-line 7.3AE.
Sport 2.5AE
The base model in the series has a 14.3 lb. flywheel, 18 inch stride, 10 resistance levels, 5" LCD display, 12 workout programs, contact heart rate and a max user weight of 275 lbs.
Sport 5.5AE
Similar to the base 2.5AE but with fewer built in workouts.
Sport 3.5AE
The step up model gives you everything the Sport 2.5AE gives you plus a more advanced display, ErgoFit heart rate grips, quick keys, enhanced speakers and a 300 lb. max weight capacity.
Sport 2.7AE
The 2.7AE gives you a heavier 17.6 lb. flywheel, 5 manual incline positions, 16 resistance levels, 33 built in workouts and a 300 lb. max weight.
3.1AE
The 3.1AE is one of the most popular models. Here you get a 23 lb. flywheel, 20 levels of power incline, 20" stride, 20 resistance levels, enhanced display, 10 workouts, grip as well as wireless heart rate monitoring and a 325 lb. max weight capacity.
Sport 5.9AE
The lowest priced elliptical with Bluetooth capability, this one has is very similar to the 3.1AE.
4.1AE
Stepping up with a 30 lb. flywheel, 5 LED display, 15 workout programs, workout tracking and grip/wireless heart rate monitoring and a 350 lb. max weight capacity.
5.3AE
The 5.3AE AFG elliptical trainer has a 30 lb. flywheel, full power incline, 20 resistance levels, 8.5" LCD display, 12 built in workouts, LiveTrack workout tracking and an advanced music system.
18.1AXT
The only unique AFG elliptical machine in the mix, this is an Ascent Trainer similar to what the company commercial-grade Matrix ellipticals offer, with 20 power incline levels, adjustable stride from 19" to 21", 20 resistance levels, 15 workouts, tracking capability and a 325 lb. max weight capacity.
Sport 5.7AE
Only a 17.6 lb. flywheel on this one, but a 20" stride, 10 resistance levels , 43 workout programs, workout tracking, grip and wireless heart rate and a 300 lb. max weight capacity.
7.3AE
The top of the line model with a 30 lb. flywheel, full power incline, 20 resistance levels, 7" HD touch screen, 10 workouts and a 350 lb. max weight capacity.
What's unique about these elliptical trainers is that the pedals are riding just 11 inches off the floor. If you've ever experienced the awkwardness and precarious height of climbing onto a rear flywheel elliptical, you'll appreciate the ease of this cool design feature.

Which AFG Elliptical Should You Choose?
We must admit that the AFG elliptical lineup is a little confusing.  Usually, as you move up sequentially you get a more advanced model.  
For example, you have the NordicTrack Commercial 1750, 2450 and 2950, and as you move up you get more features and capabilities.
Here the numbers go up and down, as you can see above, so it's hard to figure out what machine offers which features and more importantly, which one you should choose.
We've highlighted the added features under each model description to give you a general idea of what's different as you move up.  Keep in mind that the heavier flywheels will give you a smoother, quieter workout.
As far as which AFG elliptical to pick, start with your budget, and narrow it down to a few models.  The entry level machines have 18" strides, so if you are on the taller side you need to look at the 3.1AE or more advanced models.
Incline does not start until the 2.7AE, and power incline also starts at the 3.1AE.  So that is a good starting point for you unless you are OK with a more entry-level machine.
Choosing from there should be based on how much you can afford and what other features you are interested in, e.g. adjustable stride, workout tracking, wireless heart rate monitoring, etc.
All of the AFG ellipticals are well built, well designed and feature solid warranties.
Strong Warranty and Customer Service
One area where AFG elliptical trainers stand out from the competition is in the way the company backs up their machines. The warranties are outstanding — among the strongest in the industry.
The company also wants to be known for superior service, and elliptical reviews (though there aren't many available to view) tent to rate AFG's customer service and in-home tech repairs to be satisfactory.
AFG Elliptical Reviews - Bottom Line
AFG elliptical trainers have taken on the toughest price bracket — the over $800 but less than $3000 market.
They are good machines but not great considering the competition they have going against the best-selling, mid-range brands. The real problem is that these are re-packaged Horizon ellipticals.
They have been re-branded as AFG machines because too many of the $1000+ Horizon machines were getting poor reviews.
Time will tell if AFG can carve a market share away from industry leaders like Sole and NordicTrack, but it doesn't look likely with so many models and confusing specs.
Following are AFG ellipticals reviews for each of the most popular models, so you can learn about specs, buying tips, news and more to help you make a better decision.
AFG Model Reviews
AFG 2.0 AE Elliptical - A lot of value for the price.
AFG 3.0 AE Elliptical - A pretty basic model that doesn't offer much of a wow factor.
AFG 3.1 AE Elliptical - The award-winning AFG 3.1 AE features a power incline on a front-drive SixStar Certified™ frame and a beautiful console layout.
AFG 4.0 AE Elliptical - This model is a winner, designed to rival lower-end, health club quality machines.
AFG 4.1 AE Elliptical - The AFG 4.1 AE features multiple workout options with a power incline, large flywheel, and roomy 20-inch stride length.
AFG 18.0 AXT Ascent Trainer - Provides a superior, heart-pumping 'ascent' when doing climbing exercises. Variable stride length and moving workout arms engage all muscle groups.
AFG 18.1 AXT Ascent Trainer – An innovative cross trainer that offers a variable stride length to simulate walking, running, or stadium step climbing with 20 levels of power incline.
---