The AFG 3.0 AE Elliptical Trainer – Average Design, Profile
Good looking but boring, the AFG 3.0 AE elliptical trainer is an unknown in a crowded elliptical field. It doesn't offer anything special to separate it from the pack.
What You Get
The AFG 3.0 AE elliptical trainer console has a 10x14 red LED dot matrix display, plus 4 other easy-to-red LED windows for readouts. User programs include Intervals, Weight Loss, Constant Watts, Rolling Hills, THR Zone, Reverse Train (forward & backward pedaling), Custom, and Manual.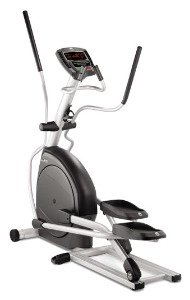 The specs for the AFG 3.0 AE include:
20" Stride Length
20 Resistance Levels
18-pound flywheel
8 Programs
Moving Handlebars
Handgrip Pulse Sensors
Polar® wireless HR receiver
Pivoting footpads
300-lb. User Capacity
Dimensions/Wt: 70"H x 28"W x 64"L / 200 lbs
Warranty: lifetime frame & brake, 3 years parts, 1 year labor
UPDATE:  The AFG 3.0 AE elliptical has been discontinued and replaced by the all new 3.1 AE.  Check it out as well as the other new models on sale here:
Most Popular AFG Ellipticals On Sale Now
The Word on the Street
The drive system on the AFG 3.0AE elliptical trainer consists of an 18-pound flywheel and a magnetic brake system providing the user a smooth quiet ride.
The 1.2-inch pedal spacing mimics your natural walking motion and the pivoting footpads help deliver a comfortable workout. It has a Polar® heart rate receiver that will work with any model chest strap (not included) for heart rate monitoring.
Johnson Health Tech of Taichung, Taiwan, launched AFG (Advanced Fitness Group) in 2007 as a specialty fitness equipment line. AFG is an offshoot of Horizon Fitness, a sister company, using some of the talented engineers and designers coming over to AFG.
Since this new line is largely a re-branded copy of Horizon machines from two years ago, elliptical reviewers are wondering what the purpose of this company is.
While the Horizon line has raced ahead in 2010 using wonderful new biomechanical technology, the AFG models look to be old school front-drive systems, still sliding roller wheels along guide tracks.
Our Thoughts
The AFG 3.0 AE is a pretty basic elliptical trainer that doesn't offer much of a wow factor. While the console is attractive and functional, and the programs are straightforward, the design and profile of this trainer is average, even boring perhaps.
The price at the AFG website is $1,499; but you can purchase it at Amazon.com with free shipping for a few hundred dollars less. It you can find it for a hugely reduced price, say around $800, it might make sense, but there are many other ellipticals priced at $1500 that are a much better value with more advanced features.
In fact, we can think of a number of $999 machines that offer more than the AFG 3.0 AE elliptical trainer.
Show me other AFG Elliptical Trainers