The BH Fitness X4 Elliptical with Adjustable Pedal Width Technology
A straight forward, no frills machine describes the BH Fitness X4 Elliptical Trainer. This is a mid-priced model being launched by a new brand in the North American elliptical market, although it is not a new company. The brand, formerly known as Bladez and built by DK Fitness, was recently acquired by BH Fitness in Spain in 2007.
What You Get
The blue backlit LCD matrix window displays speed, distance, time, calories, incline, and pulse rate. It comes with a program profile graph and has 12 programs. The BH Fitness X4 Elliptical also has four heart rate programs, which incorporate the use of either the wireless chest strap or pulse grips located on the handles.
The features on the X4 include: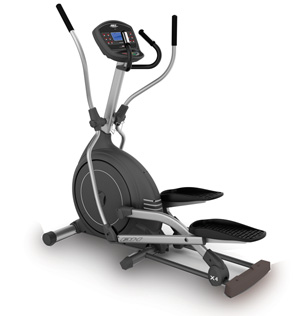 Resistance – 16 levels
20" Stride Length
12 Programs: 4 HR Programs
Anatomically Correct Foot Pedal Spacing
Dual Guide Rails for Maximum Stability
Sport Grip Handlebars
Contact heart rate sensors
Polar Chest Strap and Wireless Heart Rate Standard
Slip-Resistant Pedals
325 lb. user weight capacity
Dimensions/Weight: 63.5"L x 29"W - 145 pounds
Warranty – lifetime frame, 5 yrs parts, 1 yr labor
UPDATE:  Bladez Fitness is no longer making ellipticals with the BH label.  They have switched back to using the Bladez name on all of their equipment. 
Check out the new Bladez ellipticals here.
The Word on the Street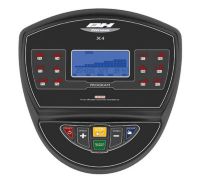 Ever since BH Fitness debuted their Adjustable Pedal Width Technology at the 2007 Health & Fitness Show, fitness trainers have been remarking on the exciting new things being done by this company.
This new technology allows the user to adjust the spacing between pedals for maximum comfort. The elliptical ride is smooth as well, but otherwise, there aren't too many attractions on the X4 model.
This is a solid and quiet machine, BH's best model overall, yet it has a number of problems the company will need to address if it hopes to stay competitive. In elliptical reviews, most owners have remarked that the LCD display on the BH Fitness X4 Elliptical is extremely difficult to read during use.
It seems to be an angle problem, yet both tall and short users share the same experience. There is also a positioning issue with the height of the moving arms, which are not comfortable to use. Lastly, selecting a program on the display is more complicated than it needs to be.
Our Thoughts
The BH Fitness X4 has an MSRP listed at $1,599 and sells online for under $1,000, which strengthens its appeal as a decent value. Nevertheless, while this is a tight, efficient little elliptical trainer, why choose it over proven best sellers from NordicTrack, Horizon, Smooth, and Sole, which are more comfortable?
In addition to ergonomic issues, all of the leaders in this price category have better marks for quality and production value than this one. Aside from the good warranty and the adjustable stance, there's little reason to recommend the BH Fitness X4 Elliptical.
Show me other BH Fitness Elliptical Trainers