The Body Solid Endurance E4 Elliptical Stepper – Thumbs Up with Reservations
Yes, we will call this the Body Solid Endurance E4 elliptical stepper as well as an elliptical machine. We do want to touch base on this model, which runs right around $750, but it walks that fine line between an elliptical machine and a stair-stepper, primarily because of the short stride length.
What You Get
Body Solid is a company that originally made its name in the home gym and strength training equipment areas. They now produce several elliptical trainers, however, including the Body Solid Endurance E4 elliptical stepper (or Endurance Cardio E4 elliptical, which it's also known by). At a reasonable price, you get pretty good features, including:
LCD console display
Upper body workout
15 resistance levels
Pulse grip heart monitor
Front flywheel
Small footprint
Portability
14" stride
Magnetic resistance
Warranty: Lifetime on all parts, 1 yr. labor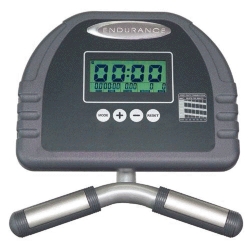 The Body Solid Endurance E4 is self-propelled, but uses batteries for the LCD display monitor, which records several of the most popular function read-outs.
The Word on the Street
Most trainers treat the Endurance Cardio E4 elliptical stepper with a bit of disdain. They can't seem to get past the 14" stride. This is understandable, since it can be a real problem for taller individuals and does give the elliptical motion a choppy, up-and-down feel to it that isn't nearly as smooth as machines with a longer stride.
Compare Prices of Body Solid / Endurance Elliptical Trainers Here
Consumers who have purchased the Endurance E4 Elliptical Stepper tend to like it, however, because it fits very specific needs. This Body Solid model has a very small footprint, taking up about half the space of most elliptical trainers. It's got enough work-outs and levels of resistance to satisfy their needs without being in a price range that's out of their league, and it provides a synchronized upper body workout.
For consumers, the pros outweigh the cons.
Our Thoughts
For individuals who have limited space and are just starting out on an elliptical machine, this one is actually a very good performer. We just wish the stride were longer so that you had a smoother glide.
That aside, the Body Solid Endurance E4 Elliptical Stepper has some definite plusses. The most obvious is the awesome warranty – lifetime on all parts? Come on, who does that these days? Body Solid obviously believes in their product, and that says a lot.
The LCD display console and 15 resistance levels are both above average in an elliptical machine at this price point. We also liked the silent operation; although this operates more like a stepper than an elliptical because of its compact size and short stride, it doesn't make much noise at all.
Bottom line, if you're looking for a decent little machine for a tight space, we give a thumbs up to the Body Solid Endurance E4 Elliptical Stepper with reservations – especially if you're tall.
Show me other Body Solid Elliptical Trainers