The Bodyguard E230X Elliptical Trainer – Amazingly Comfortable Ride
The Bodyguard E230X elliptical trainer is a classy machine that gets good marks from nearly all elliptical reviewers. But when you have a flawless elliptical motion, and the most comfortable pedal stance on the market, you're bound to turn a lot of heads.
What You Get
Though it comes with a lot of snazzy features the profile of the Bodyguard E230X elliptical trainer, with its boxy frame over the front flywheel is unattractive.
Yet this design allows it to have one of the closest pedal spacing (1.75") among ellipticals. On the dashboard, you find 15 intriguing workouts including: Total Body Strength, Race, Hill, Intervals, Buns of Steel, Smart Reverse, Target Watts, Distance Goal, Calorie Goal, Goodbye Fat, Be Active, and Ultimate Thighs.

The Bodyguard E230X elliptical has this list of specs: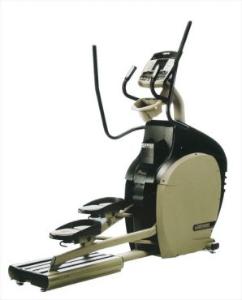 Advanced ECB Technology Resistance™
15 Workout Programs; 2 Memory; 2 User ID
18" or 20.5" Adjustable Stride
X-Comfort Foot Pads
Heart Rate Control
Heart Rate Monitoring
Moving Handlebars
Posture bar (optional)
Quick tilt console
Front flywheel
Built-in reading rack
Transport Wheels
350 lb. user weight capacity
Lifetime warranty on frame/motor/brake system; 10 yrs parts/electronics, 3 yrs labor
The Word on the Street
UPDATE:  This model is discontinued.  Check out our Top Elliptical Picks for a comparable model in the price category.
Experts emphasize that this trainer offers the best feet cushioning that they've ever experienced thanks to the oversized pedals and X-Comfort foot pads.
In addition, it also has the very ergonomic EZ3 system which allows you to adjust the angle of your foot on the pedals which helps to keep your feet from getting numb after a 30-minute workout.
Consumers are generally thrilled with the quality and sturdiness of the unit and the amazingly comfortable ride. But elliptical reviews point out one (very slight) drawback to the Bodyguard E230X elliptical, which is the location of the moving arms.
It's uncomfortable for many users because holding on to the handlebar grips drives the user's arms so far back that they experience some shoulder strain. That's not a knock against this machine since many elliptical trainers with upper body handlebars have the same issue.

Our Thoughts
Even with a sale price at $2799, the only glaring weakness on the Bodyguard E230X elliptical is that high price tag.
It's a smooth, comfortable ride and has that outstanding warranty, but it's only so-so for noise and we don't particularly care for the look, or the moving handlebars.
Still, if you can find the Bodyguard E230X elliptical trainer at a killer price, it's a good buy.
Show me other Bodyguard Elliptical Trainers