The Bowflex BXE216 - A Step Up From The Base Elliptical
The BXE216 is one of two new elliptical trainers from Bowflex, a company that has become quite popular thanks to its mega selling TreadClimbers and Max Trainers.
In 2017 the company introduced their Results Series, two treadmills and two ellipticals, as part of their push back into the traditional cardio machine market.
What You Get
The Bowflex BXE216 is a front drive elliptical, mostly black with white accents, with a large LCD display and compact profile.
Let's look at some of the most important specs...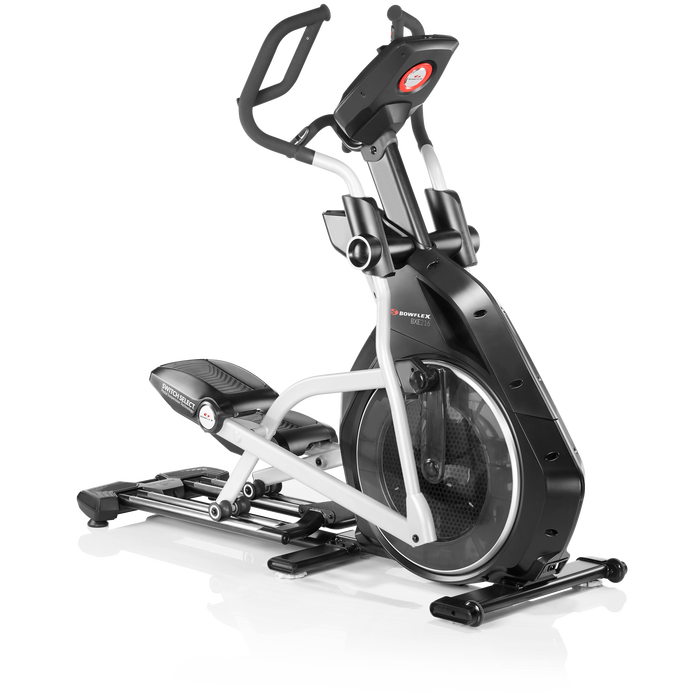 22" Stride Length

11 Workout Programs
Adjust Select cushioning
Quick Adjust keys
9" LCD display
15% Incline capability
25 resistance levels
Burn Rate console
400 lb. user weight capacity
Bluetooth workout tracking
Dimensions: 77" L x 31" W x 70" H
Max Weight:  400 lbs.
Warranty – 15 year frame, 5 yrs parts and electronics, 2 yrs labor
Check out new Bowflex elliptical trainer on sale now!
The Word on the Street
UPDATE: It looks like Bowflex may have discontinued the elliptical lineup, possibly due to lack of interest. The BXE116 and BXE216 are no longer on the company website and not available anywhere else.
Check out the popular Max Trainer lineup instead.
------------------------
Building on the success of their TreadClimbers and Max Trainers, considered hybrid cardio machines as they combine more than one type of exercise, Bowflex decided to jump back into the traditional market with the Results Series.
The BXE216 is the more advanced model, with a few more features and capabilities than the base BXE116 model.  Both have some unique features that you don't find on similarly priced elliptical trainers.
For starters, you have a 22" stride, which is about 2" longer than you will find on most other models.  This gives you plenty of room to stretch out, and is ideal for taller users who might find a smaller range a bit uncomfortable.
Another unique feature talked about in reviews is the 15% incline capability, something that is quite rare on an elliptical under $2000.  Incline allows you to really ramp up the cardio and target more muscle groups in the legs.  Combine this with the 25 resistance levels and you can really challenge yourself.
The 9" LCD console is a bit busy, but functional.  You have Quick Keys for your incline as well as your resistance levels.  You can choose from 11 built in workout programs, including Calorie Burn, Fat Burn, 5K, Heart Rate, Interval and Strength workouts.
The built in Bluetooth 4.0 on the Bowflex BXE216 allows you to track your workouts through the Results Series App, so you can really keep on top of your training and set fitness goals for yourself to review and share with families and friends.
You also have the Burn Meter which shows you how many calories you are burning each minute, with different colored zones showing you how hard you are working.
So there's a lot of good features here.  The only sticking point is the warranty, which is both good and bad.  The frame warranty is only 25 years, which pales in comparison to the lifetime frame coverage you typically get.  But the parts and labor portions are pretty good...5 years on parts and electronics, and 2 years on labor.
Our Thoughts on the Bowflex BXE216
The early Bowflex elliptical reviews are favorable, and the new Results Series might just be able to compete with the other popular brands like NordicTrack in the under $2000 price range.
They are not the most solid machines that you'll find, but if you want to burn calories, lose weight and get a solid workout in with program variety and incline, the BXE216 is a pretty good choice.  
We would definitely recommend this one over the base BXE116 model, and would also recommend the extended coverage that they offer just for peace of mind.
Get more info and special sale pricing on this elliptical!