Cubii Reviews – Are They Worth Buying?

Cubii ellipticals have become quite popular over the last few years, steadily surpassing the competition due to their ease of use, ergonomic design and compatibility with fitness apps. They offer a way to get a little workout in while you work, watch TV, browse the internet or anything else you like to do in a seated position.
But are they worth it? At over $200 for the base Cubii Jr. model, we wanted to see if this under desk elliptical trainer was worth it. So we punched up a Cubii from Amazon and our experts gave it a go.
Let's jump into our review to see what these compact trainers are all about...

The Current Cubii Elliptical Lineup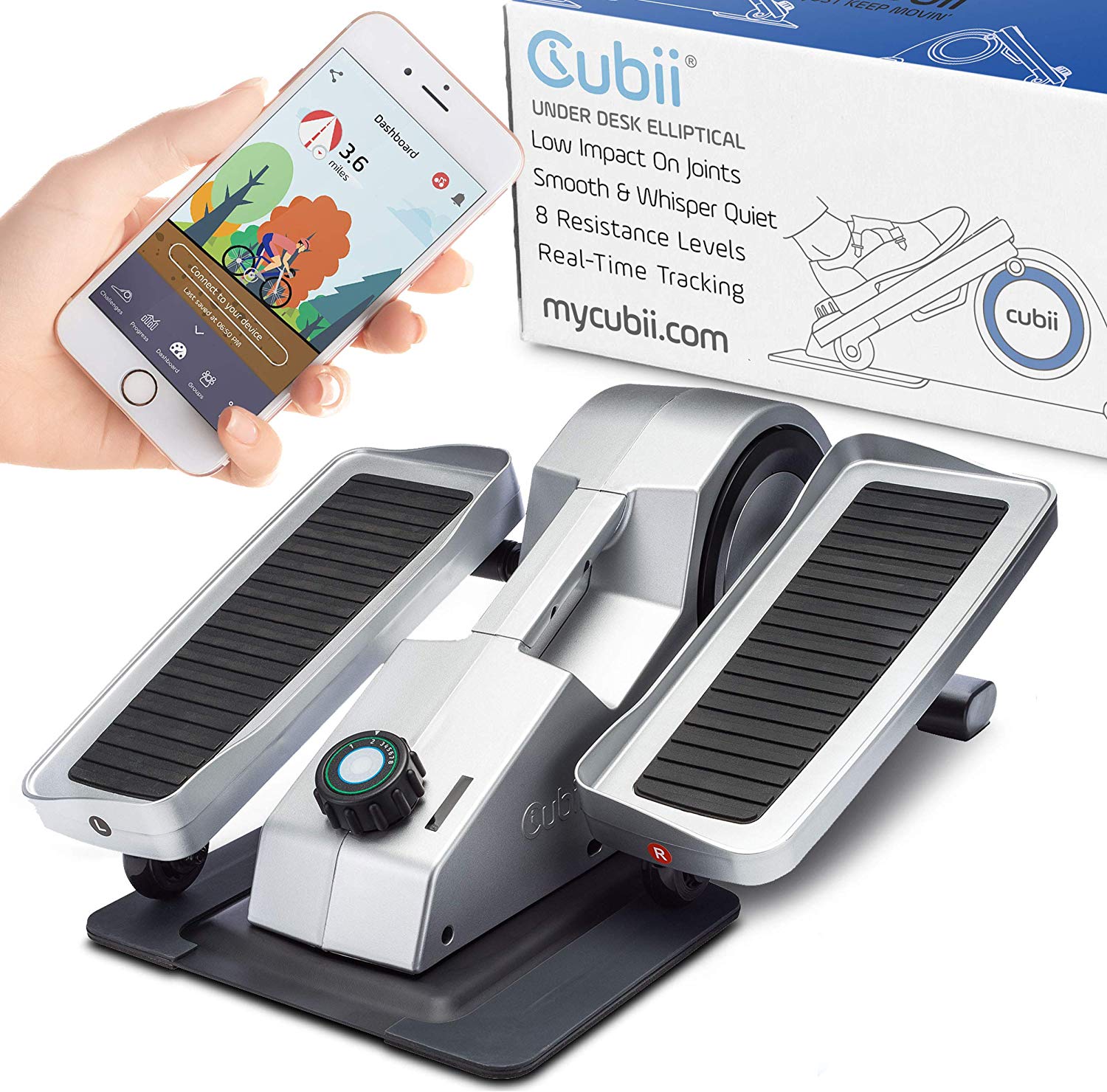 As of our latest Cubii review there are three models to choose from: the base Cubii Jr., the mid-level Cubii Pro and the higher end Cubii Elite. Here is an overview of all of them.
Cubii JR1 & JR2
These are the most affordable options in the series, at around $249-$269 each.
The JR1 is all black with your choice of either an aqua blue or purple track and logo. It has a basic LCD display and a resistance knob with 8 levels to choose from. It also has a handle for easy portability.
There's a newer JR2, which is available in green, and it's the lightest model yet at 18.9 lbs. It has a newly designed flywheel for smoother operation, adjustable footstraps and a new ChairLock to keep your chair in place while you use it.
Cubii Go
Stepping up (no pun intended) you have the Go model, another new lightweight model like the JR2. This one is available in gray/orange color and is the only Cubii elliptical that comes fully assembled and ready to Go. (See what we did there?) It will cost you around $299 on sale.

Cubii Pro

Next up the ladder you have the Pro model, which is $100 more at around $349. It's available in silver with black track and logo, or black (noir) with red track and logo.
The Pro has all of the features of the Jr. model, but adds Bluetooth capability. This allows you to use the free Cubii app to keep tabs on your workouts and also sync with your FitBit or Apple Health.
Cubii Elite
The limited edition Cubii Elite, at $349, is identical to the Cubii Pro, except it has a premium wood finish so it might look better in your home or office as far as matching the decor.
All of the Cubii ellipticals are compact so they will fit in anywhere.
The JR1, Pro and Elite are 23" x 17.5" x 10". The new Cubii Go is 24.5" x 17.5" x 9" and the new JR2 is the most compact at 22.2" x 11.8" x 11.6".
At around 19-27 pounds, depending on what model you choose, they're not the lightest under desk ellipticals, but they're also sturdier than most. They all have a handle for easier portability. 

Do the Cubii Ellipticals Give You a Good Workout?
The Cubii works like any under desk or compact elliptical. You simply place it on the floor, choose your resistance level 1-8, and start pedaling. You'll need some clearance if you're sitting at a desk so you don't bang your knees while working out.
The elliptical motion is similar to what you do on a standing elliptical, albeit in a much tighter range. The Cubii Pro we tested out was pretty smooth as far as the motion, and although it did make some noise it was not very distracting at all.
As regular elliptical users we started out at the highest resistance level, and after about 30-45 minutes of pedaling we did feel a good burn coming on. If you're just working away at a desk or sitting on the couch, it's a great way to get a workout in and burn some calories.
Is it the most awesome workout you will ever have? Absolutely not. You're obviously sitting and not standing, so you there's no upper body element to it. It's also a more compact stride as we mentioned, so if you're a regular elliptical user you'll have to get used to that.
But overall, for what it is it's pretty good, especially fo those who sit for extended periods of time, or don't have time to work out otherwise.
Which Cubii Elliptical Should You Choose?
If you can swing the additional $100, we would definitely opt for the Cubii Pro over the JR and Go, simply because you get the Bluetooth connectivity that those models are lacking.
With Bluetooth you can download the free Cubii app and see your strides, distance, calories, active time and more. You  can set goals for yourself, compete with friend and get alerts to remind you to train.
You can also sync your results with Fitbit and Apple Health, and keep track of your progress that way.
Although you don't need the app to work out, it's definitely a great motivational tool to keep you moving in the right direction.
The Cubii Elite is nice, but unless you're really concerned about the compact elliptical fitting in with your decor, you don't really need it.

How Do They Compare to the Competition?
There are a number of players in the compact/under desk elliptical market, and they all have their pros and cons.
The Cubii ellipticals are definitely on the higher end price wise, but they also have more functionality so that makes sense.
There are under desk cyclers for under $100, but those are a bit different as they are pedalers similar to an exercise bike, as opposed to what we're discussing here which are elliptical trainers.
Stamina makes a version called the Compact Strider, which is a little over $100 on sale. It comes in three different color choices and has a resistance knob.
It's about the same size and weighs about the same as well. However, it's not as sturdy as the Cubii compact elliptical and does not have the Bluetooth capability of the Pro and Elite models.
Sunny Health & Fitness makes a similar model, that is slightly more expensive than the Compact Strider.
Perhaps the most similar competitor is the DeskCycle Ellipse, which comes with its own app and ability to sync to Fitbit just like the Cubii elliptical.
What makes the Ellipse a bit difference is the ability to remove the display from the machine and place it anywhere in the included stand. It is also similarly priced, although we like the motion a bit better on the Cubii.
FitDesk also has an under desk elliptical, although it has a lower weight capacity of 250 lbs. vs 300 lbs.
What's the Bottom Line on the Cubii Ellipticals?
If you're thinking of buying a Cubii elliptical, check out all three models first to see which one is right for you.
All three are very compact, well designed, and will give you a good under desk or general seated workout. You can choose from 8 different resistance levels to make the workout more challenging, and change it up from one day to the next.
We would opt for the Cubii Pro if budget allows, as the Bluetooth capability makes all of the difference and makes your training much more interesting. The Cubii Jr. is fine, but you just can't access the free training app with that.
Also check out the other options out there like the DeskCycle, FitDesk, Stamina and Sunny Health & Fitness compact ellipticals.

---