Should You Buy an Under Desk Elliptical Trainer?
As we spend more and more time at the office these days, under desk elliptical trainers have become quite popular as they offer a way to get a little exercise in without having to leave work.  But are they worth using or are there better options?
A Look at the Different Options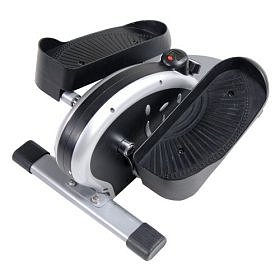 Under the desk exercise machines have been around for quite some time now, with pedal and cyclers leading the way.  The most simple pedal exercisers can be found for as little as $25.  Some of the more elaborate ones with resistance options and displays can cost up to $160.
The under desk ellipticals take it a step further, incorporating a forward elliptical motion instead of a pushing down cycling motion.  They tend to be a little more expensive, starting at around $90 and running up to $300 for more advanced models.
You can also find some hybrid models, e.g. half elliptical/half stepper, with varying capabilities and functionality.
But let's focus on the elliptical trainers, since that is what our site is about.  Here are the pros and cons to consider....

Under Desk Ellipticals - The Pros
Let me start off by saying that anything is better than nothing when it comes to exercise.  So if it's a question of moving vs. sitting at your desk all day, any motion at all is better than none.  So I guess that's the first pro when it comes to under desk trainers.  Let's look at some more:
1.  You can burn calories and tone up your legs.
Again, anything that requires movement is good for your body.  Sitting down and using an under desk elliptical trainer, even for 10 or 20 minutes, will burn a decent amount of calories.  How many exactly will depend on your weight, your intensity and how long you use it for.  But rest assured you will burn some calories.
You'll be working your legs with the repetitive motion, which will help strengthen and tone them.  It might not be as effective as a standing elliptical, but it will work the muscles nonetheless.
2. They are relatively inexpensive.
As we mentioned above, you can get a very basic under desk elliptical machine for less than $100.  It's well worth it if that is what it takes to get you exercising every day.  Even the better ones with more functionality are affordable.  You can get ones that sync to your fitness apps for tracking purposes for under $300.
3.  They're easier to use than the cyclers.
Oftentimes people complain about banging their knees when they use under desk cyclers and pedal machines.  That's because of the up/down motion.  With the elliptical, you're moving forward and back, so there's less of a chance of your knees making contact with the under side of your desk.
Under Desk Ellipticals - The Cons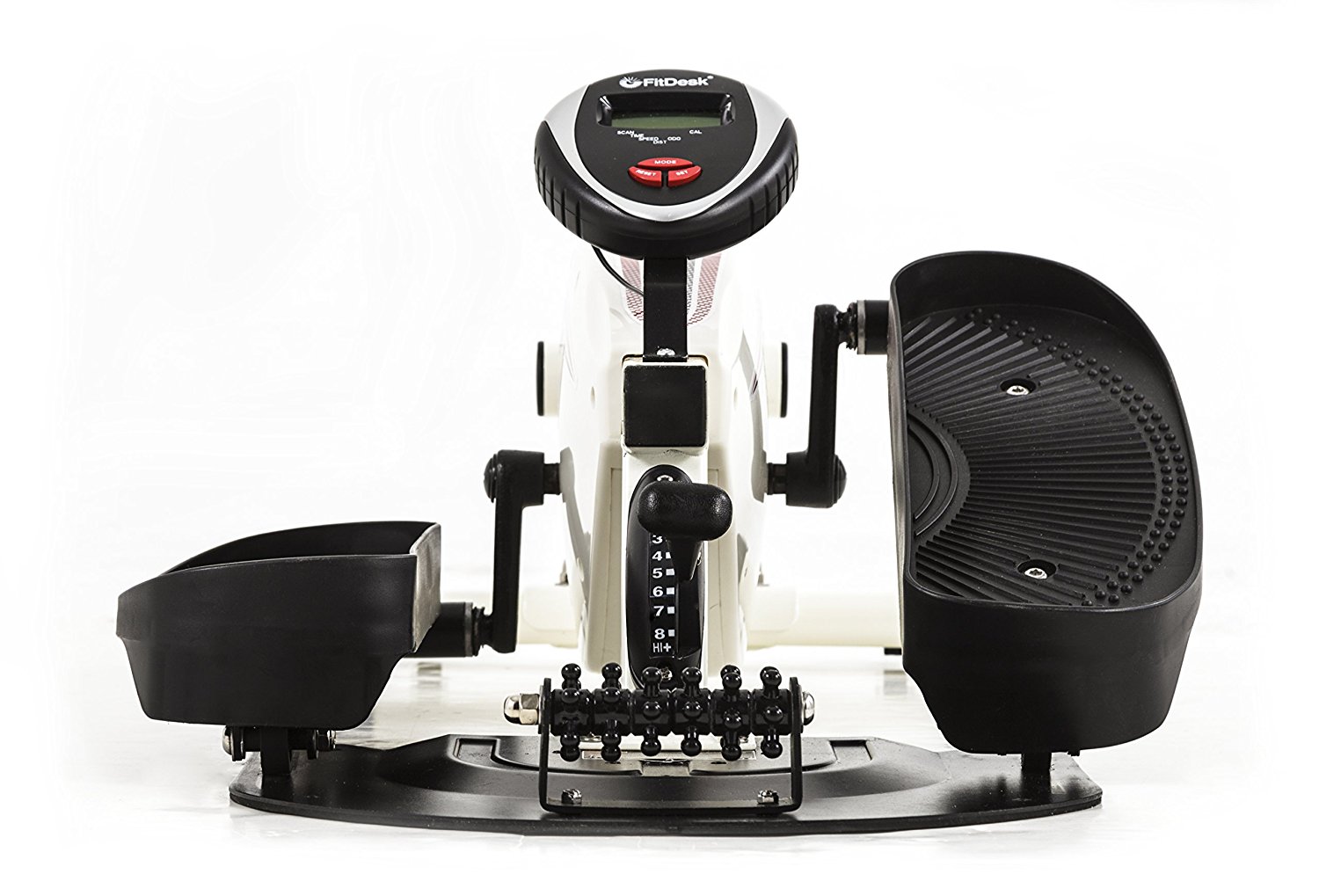 There are some drawbacks to be aware of when it comes to ellipticals and under desk exercisers in general.
1. Most won't stand up to heavy usage
Yes, they are relatively inexpensive, but when it comes to exercise equipment, you typically get what you pay for.  These machines are just fine for casual regular use, but if you plan on using them for hours a day, every day, for years, they might start to break down after a while.
2. The warranties aren't great
As with most inexpensive exercise equipment, the warranties on under desk elliptical trainers tend to be very short.  You might get 6 months or a year tops, so if you do plan to buy one you should consider extended coverage.
3.  They are not as effective as traditional units
Although they can help you burn calories, they don't offer as effective a workout as the best elliptical trainer would.  The motion is fixed and the stride is short.  As such they tend not to be as comfortable, nor do they put you in the ideal position.
What's Out There and What to Buy
There aren't too many options when it comes to desk ellipticals, so it shouldn't be too hard to choose.
For starters, you can find all of them for sale at Amazon, so take a look at the various models and decide which one is right for you.
At the low end you'll find the Stamina In-Motion Elliptical Trainer, which is about $80 for the silver model and a few dollars more for green and orange.  You can use it standing or sitting, forward or back and it has a monitor and resistance knob.
Moving up you have the jfit Under Desk and Stand Up Mini Elliptical/Stepper, which is about $140.  It features adjustable pedals, large wheels, LCD monitor and carrying handle.
Then there's the FitDesk Under Desk Elliptical, just under $150, which is quieter and smoother than the In Motion with 8 magnetic resistance levels, low pedal height, removable monitor and foot massager.
There's an under desk elliptical called the Sunny Health Motorized that gives you manual and automatic capability.  At $230, it has large textured footpads, auto shut off and forward/backward pedaling.
One of the newest options on the market, and also the most expensive, is the Cubii Smart Under Desk Elliptical. It costs around $280 and gives you 8 resistance levels as well as Bluetooth capability to track your workouts.  This is a great option for those who like to monitor their progress.
So those are your choices when it comes to under desk elliptical trainers.  We would recommend the jFit, FitDesk or Cubii, but check them all out to see which one most appeals to you.