Cybex 360A Home Arc Trainer – The Most Affordable Cybex Model
The award-winning Cybex 360A Home Arc Trainer is the affordable residential model that offers the same programs, technology, and rugged features of the health club models.
What You Get
The Cybex 360A Home Arc Trainer console has an intuitive split-level display for readouts and programming. The graphic profile gives stats for distance, calories, time, heart rate, Watts, METS, and more. The 13 preset programs include Quick Start, Manual, Valleys, Hills, Ramps, Cardio, Endurance, Strength, Random, Calorie Goal, and Intervals. Also on the console is a multi-colored heart rate light indicator to identify specific Target HR Zones.
The full list of specs includes: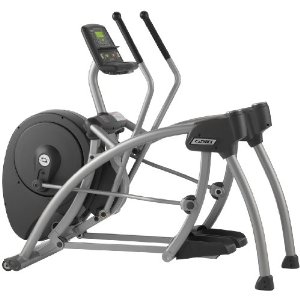 Eddy Current Resistance – 11 Levels
24" Stride Length
13 Programs
11 Incline Levels
Resistance Range to 450 Watts
Upper Body Handles w/Contact HR grips
Polar Wireless HR Monitoring (Chest strap not included)
300 lb. user weight capacity
Weight/Dimensions – 293 lbs / 71" x 28.5" x 62" (L x W x H)
Warranty –10 yrs frame; 5 yrs parts; 1 year labor
Compare Prices of Popular Arc Trainers On Sale Now at Amazon
The Word on the Street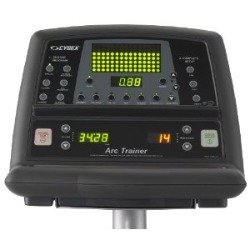 The Cybex 360A Home Arc Trainer follows the high-end models in its patented Reverse Arc motion technology, which allows the hip and knee to move synchronously as the foot stays in position under the knee, thereby reducing possible knee joint pain.
Next, the Arc Trainer's upper body handlebars are designed with Same Side Forward (SSF) technology. This positions the arm and leg on the same side of the body moving together, providing a comfortable workout posture and eliminating back fatigue. Crosstrainers made by competitors put the arms and legs moving in opposite directions.
Another key feature of the Cybex 360A is the long upper body handles that provide a near-linear path to minimize painful wrist articulation, again, to provide optimum posture for a better workout.
All of these technologies, along with the unique pattern of motion, promote a low Rating of Perceived Exertion (RPE) as the user burns more calories in less time while feeling less exertion.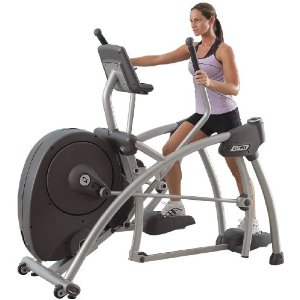 Elliptical reviews on the Cybex Arc Trainers are excellent but redundant – there is nothing to find fault with a Cybex; it is the standard that all crosstrainers are compared against.
From the customer service, which is quick and attentive, to the warranty (very good), it is a well-built machine that lasts for years. The Cybex 360A is virtually silent, an ergonomically comfortable ride, and a heck of an intense workout.
One caution: the Arc is quite heavy at nearly 300 pounds, so consider yourself warned. Otherwise, be prepared for the best workout of your life.
Our Thoughts
The Cybex 360A Home Arc Trainer is the most affordable of the Cybex crosstrainer line-up. It also represents the best value of the bunch, since the high-end models are designed for commercial use in health clubs and hotels while most families will be fine with this model even if it is used many hours every week by multiple users.
The $3,300 price tag is probably more than you want to spend, but then, it is a Cybex, so you are getting a leading brand and a solid machine that will help you reach your fitness goals in record time.
Show me other Cybex Arc Trainers