The Cybex Arc Trainer 600a – Better Results in Less Time
The refurbished Cybex Arc Trainer 600a model with moving handlebars for upper body exercise provides a true full body workout. You have to try it just once to understand why Cybex markets its equipment with the motto: "Better Results – Less Time."
What You Get
The Cybex Arc Trainer 600a has a split console featuring a dot matrix graphic of the program on the upper console, plus a large 1" LED readout of distance, calories, METs, strides per minutes, and heart rate. The lower LED display shows resistance level, incline level, and time. Pre-set programs include Quick Start, Manual, Weight Loss, Cardio, Interval, Hill, and Strength. All programs can be adjusted on the fly to increase or decrease resistance and/or incline.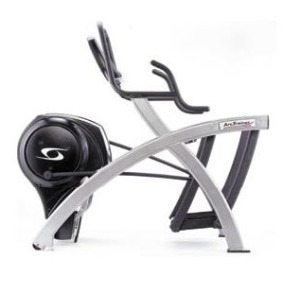 The full list of specs includes:
24" Stride Length
6 Programs
11 Incline Levels
Resistance Range to 900 Watts
Upper Body Handles w/Contact HR grips
Polar Wireless HR Monitoring (Chest strap not included)
300 lb. user weight capacity
Power requirement: 115V outlet
Weight/Dimensions - 331 lbs / 70" x 30" x 44" (L x W x H)
Remanufactured Warranty - 90 days
Compare Prices of Popular Arc Trainers on Sale at Amazon
The Word on the Street
The Cybex Arc Trainer 600a model has a max incline of around 40 degrees and resistance range up to 900 watts, a combination that is more strenuous than about 99% of users can handle.
Yet it is also very zippy and easy on the lowest setting. The patented Advanced Stride Technology allows the hip and knee to move synchronously while the foot stays under and behind the knee. This biomechanically correct motion puts no stress on the knees and joints especially at the lowest incline.
The upper incline levels offer superior training putting higher loads on the muscles while the smooth action still has less stress on the joints.
The moving arms use Same Side Forward (SSF) orientation (arm and leg on the same side move together), which lessens the type of back pain some users have experienced on an elliptical or cross-country ski machine.
An Arc Trainer differs from an elliptical machine in that it uses an arcuate(i.e., "curved") pedal path and not one that is "elliptical" in form. Also, a Cybex machine has a lower rate of perceived exertion (RPE), meaning that most users burn more calories in less time with less discomfort and less perceived effort than on an elliptical using the same amount of intensity.
The Cybex Arc Trainer 600a was voted "Product of the Year" two years in a row when it came out in 2004 and reviews were extremely positive on it. These remanufactured models have been stripped down to the frame and rebuilt to be good as new. The warranty is short, but there are no problems with refurbished units – they are tested and calibrated before they are shipped.
Our Thoughts
People who buy reconditioned cardio machines such as the Cybec Arc Trainer 600a are fans who have used it before at their local fitness center or health club.
If you haven't used one, you should try it before you buy it sight unseen – it is a fabulous cardio machine but can be too large and uncomfortable for smaller users under 5'3".
The $2,995 remanufactured price is far less than what you would have paid 7 or 8 years ago, but you will find that the new home versions of the Cybex machines have a smaller footprint and 5 year parts warranty for about the same price as a reconditioned commercial model.
Show me other Cybex Arc Trainers