The Eclipse 4100 HRA Elliptical Trainer – Value for Your Money
The Eclipse 4100 HRA elliptical trainer is made by Fitness Quest in Ohio and falls in the middle of their reasonably priced fitness machines. For a machine priced around $550, the Eclipse 4100 HRA comes with some surprising features such as heart rate control and handlebar heart rate monitoring that you don't see on other elliptical trainers in the price range.
What You Get
This elliptical offers a fitness computer that tracks time, speed, distance and calories burned on a dot matrix LED readout. Other features of the Eclipse 4100 HRA elliptical trainer include: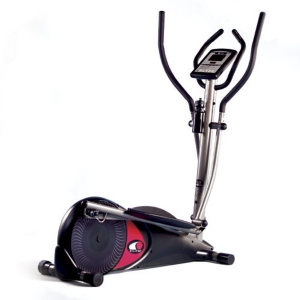 15" Stride Length
8 Programs; 6 Preset and 2 Heart Rate
Orbital Linkage System
Pulse Grip Heart Rate Monitor
Heart Rate Control
Electromagnetic Resistance
Dual action (forward, reverse)
Transport Wheels
Upper body handlebars
Adjustable floor leveling
Power -- 9V adapter
275-lb. User Capacity
One Year Warranty: Parts, Motor, Electronics, Frame and Labor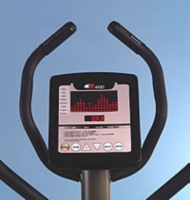 We should mention that the warranty on the Eclipse 4100 HRA may seem short for an elliptical machine, but other models offer only 90 days coverage while Fitness Quest covers the machine for the first year.
The Word on the Street
This Eclipse 4100 HRA elliptical trainer boasts a smooth elliptical pattern thanks to its patented Orbital Linkage System (OLS) although experts tend to roll their eyes at such claims but this little guy really does deliver a true oval motion. The elliptical trainer has a nice feel with a low impact stride but the 15" length is far too short for tall users to get an advanced workout. The Eclipse 4100 HRA is a small, lightweight machine that may be perfect for a small user, but it certainly isn't recommended for anyone over 200 lbs.
UPDATE: Fitness Quest is no longer making ellipticals.  If you're interested in a good budget elliptical check out the selection at Amazon:

Compare Ellipticals $500 and under here
Home users like the elliptical trainer's dual action stride motion and the upper arm workout. The cardio grip pulse monitor lets the user grab the handle for an immediate heart rate reading which tells you if you're in your target zone. Users have been satisfied with the Eclipse 4100 HRA giving it high marks for reliability. One frustration though is that the poles are way too tall especially for women who would prefer them to be around chest height.
Our Thoughts
At $550, the Eclipse 4100 HRA is one of the most affordable elliptical trainers on the market today.
It's noisier than we are accustomed but that's a minor point when cost, features, warranty, stability and ergonomic comfort are more of a priority.
When compared to the competition among other low priced ellipticals, the Eclipse 4100 HRA elliptical trainer gives you value for your money.
Show me other Eclipse Elliptical Trainers