Eclipse Elliptical Trainers – High Marks from Consumers

Eclipse Elliptical Reviews
Eclipse elliptical trainers are made by Fitness Quest, a manufacturer based in Ohio. These made in America elliptical machines fall in the lower to middle price range, going from about $350 to $750 depending upon the model.
The company prides itself on selling made in the USA products, and offers a full one year warranty on even their lowest priced models. This is unusual at the lower end of the spectrum, where a 90-day warranty is the norm.
Originally, you could purchase Eclipse elliptical trainers primarily through infomercials on television (which is where Fitness Quest really got its start), but they quickly branched out into chain stores such as K-Mart and Sears and higher end catalogues like the Sharper Image. It's an interesting combination, because it gives Eclipse elliptical exercise machines a kind of split personality – on the one hand, they're sold at relatively low prices, on the other, they are featured in exclusive catalogues.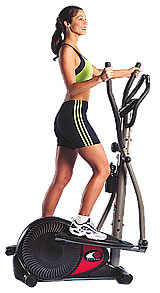 Fitness Quest Claims Reliability and Longevity
The company stresses the durability of their elliptical machines, which it claims are as reliable and long-lasting as any professional-grade models, but without the high price tag or larger footprint. In other words, professional toughness in an "at home" design.
Professional Trainers Have a Few Concerns
Professional trainers agree that these are rugged, reliable machines, but put them firmly in the "good for the basics" category. They tend to feel that Eclipse models are "good for the price," which means they really feel you should perhaps go up a bit in your price range to find something one level up.
UPDATE:  The Eclipse brand has been discontinued, and no new models are being produced.  For similar ellipticals check out the popular ProForm brand here:
ProForm Elliptical Trainer Reviews
Trainers will tell you that the stride length tends to fall a bit short on these machines, which can be a concern for taller individuals and those who prefer a long stride. Their main objection, however, is that there aren't as many extras on Eclipse elliptical trainers as on other models. If you enjoy the heart rate monitors, varied routines and other extras, this could be a concern.

Consumers Satisfied with the Eclipse Brand
Interestingly, consumers almost always give Eclipse elliptical trainers high marks. For the average home user, the sturdy construction and ease of use (due no doubt to the exclusion of some of those unneeded bells and whistles the professionals prefer) both satisfied consumers.
Especially pleased were those who had joint problems – they commented on the smooth glide of these machines. So if you just want a simple workout at a reasonable price, you can consider an Eclipse cross trainer a decent mid-market option.
Click here to write your own review!
Eclipse Elliptical Model Reviews
(These models have been discontinued)
The Eclipse 1100HR - an Affordable Model for Beginners - Some very good features make this machine perfect for beginners without paying a premium price.
The Eclipse 2100HRA - Is It Worth the Money? - A quiet running machine with a small footprint and sleek design.
The Eclipse 4100 HRA - Real Value for Your Money - An affordable machine with surprising features; perfect for small user.
Discontinued Elliptical Models Index
---