The History of Elliptical Home Trainers
Elliptical home trainers have become a popular choice for home gyms because they deliver a safe, full body, low impact aerobic workout. Home elliptical machines, which are also called cross trainers, are appropriate for people at virtually all fitness levels and offer a cardiovascular workout yet one that minimizes the stress placed on the joints, unlike running and aerobics.
Inventing a "Low Impact" Workout
Since Precor USA invented the Elliptical Fitness Crosstrainers in 1995, the market for the machine has exploded. Precor models are the best elliptical home trainers not only because they were first and have been making the machine longer than any other company, but for the fact that Precor owns at least 170 patents on this machine alone. (They also make treadmills, cycles and climbers.)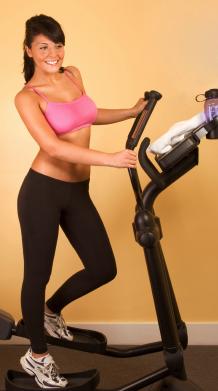 It was one of Precor's engineers who invented the break-through technology of mimicking the natural elliptical pattern of the foot. The researcher's daughter needed a way to simulate running while recovering from a heel injury and the elliptical machine was born.
Some of Precor's competitors, such as Life Fitness, pay Precor for the use of the patented elliptical motion, but others have gone their own way with their own designs -- except they can not duplicate the oval motion exactly or they risk violating patent laws. They've even gone so far as to invent front-drive ellipticals, which are not as smooth as the rear-drive machines which provide the greatest user comfort.
This means that other elliptical machines have a different variation of the oval pedal motion which may not be evident by looking at it, but it will be when you try out the home trainer. In fact, there is a different ellipse pattern on almost every manufacturer's machine.
Maximum Benefit & Low Impact
But then Precor went a step further in their design. They added the incline ramp technology with a range of 10 to 40 degrees, allowing you to target different muscle groups. The result was a full cross-training and cardiovascular workout.
Reebok was the first company to take elliptical home trainers and add the "upper body workout"; that is, they designed their Personal Trec model with movable handles to get the arms involved, rather like the motion of cross-country skiing. Some purists will argue that this gives the elliptical a crutch; that you should simply drop your hands off the front bar so that you work harder using more of the core muscle group while maintaining body balance. Either design works well for most people and is ultimately a matter of preference.
The Elliptical Evolution
Home elliptical trainers continue to evolve and gain in popularity. They have already replaced the treadmill in many home gyms as the preferred workout for improving cardio, strength, flexibility and balance. They offer an exciting array of pre-set workout programs, in addition to heart rate monitoring to allow you to reach optimum aerobic zones, as well as monitoring time, distance, and calories burned. Elliptical machines have a much smaller footprint than treadmills (so they are great for apartments!), and now come in a range of sizes and prices, offering numerous features to help you reach your goals. Until the next apparatus is invented, ellipticals home trainers will remain the mainstay of the home cardio gym.
Elliptical Trainer Glossary - a list of definitions of common terms you'll come across when shopping for an elliptical machine.
Return from Elliptical Home Trainers to the Elliptical Reviews Index Page