The ElliptiGO 8C is one of the Most Popular Elliptical Bikes
The ElliptiGO 8C is one of three elliptical bikes in the company's long stride series, combining two workouts in one and allowing you to do your elliptical training outdoors.
These alternative machines have become very popular in recent years, and millions of them have been sold to date.
What You Get
The 8C is available in green, black or red and features an aluminum frame, adjustable stride, long foot platform and adjustable telescopic steering.
Let's take a look at some of the most appealing specs...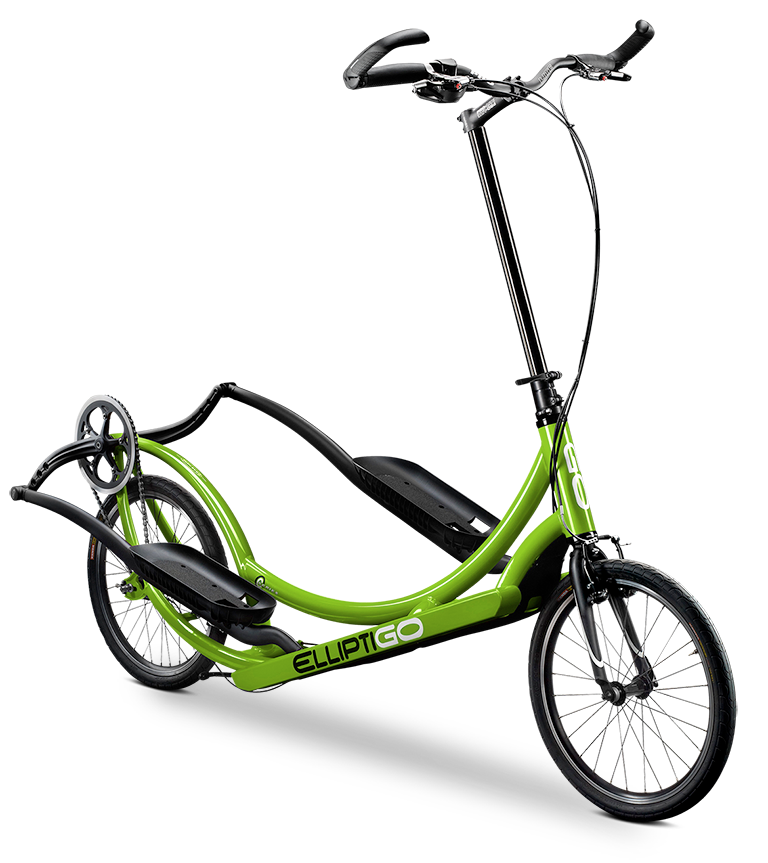 16"-25" adjustable stride
8 resistance levels
Up to 23 mph speed
Up to 20-30% climbing ability
Ergonomic bar ends
Highly customizable
Front and rear brakes
Kenda Kwest tires
Max weight capacity: 250 lbs.
Warranty: Five years frame; two years fork, drive/crank arms, steering; one year all other components 
Check out all of the current models on sale now at Amazon
The Word on the Street
Elliptical bikes aren't everyone's thing, but they have been gaining in popularity, mostly due to the fact that they allow you to take your elliptical workout to the streets.
Although you can use them indoors as well by attaching a stationary trainer, the real appeal is being able to fly around town, going up hills and cruising the streets as if you are standing up on a regular bicycle.
The ElliptiGO 8C is one of six elliptical bikes in the series.  There are 2 other long-stride models: the entry level 3C and the top of the line 11C, as well as 3 short-stride models: the Arc 3, Arc 8 and Arc 24.
The long-stride ElliptiGo bikes definitely provide a more enjoyable experience, just like longer stride elliptical trainers do.  There is much more freedom of movement, so it is like you are running rather than cycling.  The fact that you can open up your movement allows you to work out longer without discomfort.
As we mentioned, you can adjust your stride from 16 up to 25".  Note that most ellipticals max out at 20" so this gives you a little more freedom.
Although you have elliptical pedals in place of the regular bike ones, everything else is similar to what you'd find on a bicycle: the handlebars, gear shift, cranks, brakes, etc.  So it truly is a symbiotic combination of the two machines.
The 8C offers 8 different resistance levels to choose from to make your workout more challenging, and you can ride on flat surfaces as well as hills up to a 30% incline.  As a comparison the 3C offers 3 different resistance levels and the 11C offers, yes you've guessed it, 11 different resistance levels.
Which one should you choose?  It really comes down to what your budget is.  All of them are expensive...the 3C is about $1,999 on sale, the 8C is $2,499 and the 11C is $3,499.  The 8C is currently the most popular model, probably because it offers more climbing ability than the 3C and isn't as pricey as the top of the line 11C model.
All three are definitely a step up from the short-stride Arc series, although those models are considerably cheaper and worth considering as well if price is an issue.
Our Thoughts on the ElliptiGO 8C
If the thought of taking your elliptical training outdoors sounds appealing to you, then an elliptical bike might just be your thing. It combines the freedom of bicycling with the low impact of elliptical machines.
They definitely take come getting used to, as you feel like you might want to sit down when you first get started.  But after a while you get used to it and it is quite enjoyable to climb up hills, not to mention all the attention you get while doing it.
The 8C is probably your best bet of all of the models...the 3C only allows for small hills, and the 11C is more advanced but not significantly so.
You can check out all of the models on sale at Amazon, where they offer some of the best prices you'll find.