The Elliptigo Bike Combines Two Cardio Machines in One
If you haven't heard about the Elliptigo bike, you soon well as these outdoor elliptical trainers are becoming more and more popular.  Catering to those who prefer to do their cardio training outdoors, the company offers several models with varying capabilities.
What You Get
In a nutshell the Elliptigo is an aluminum frame bike that you stand up on and instead of pedaling, your feet move in an elliptical pattern to power the bike.  There are currently six different models to choose from, with varying capabilities and functionality.
Let's take a look at the important specs....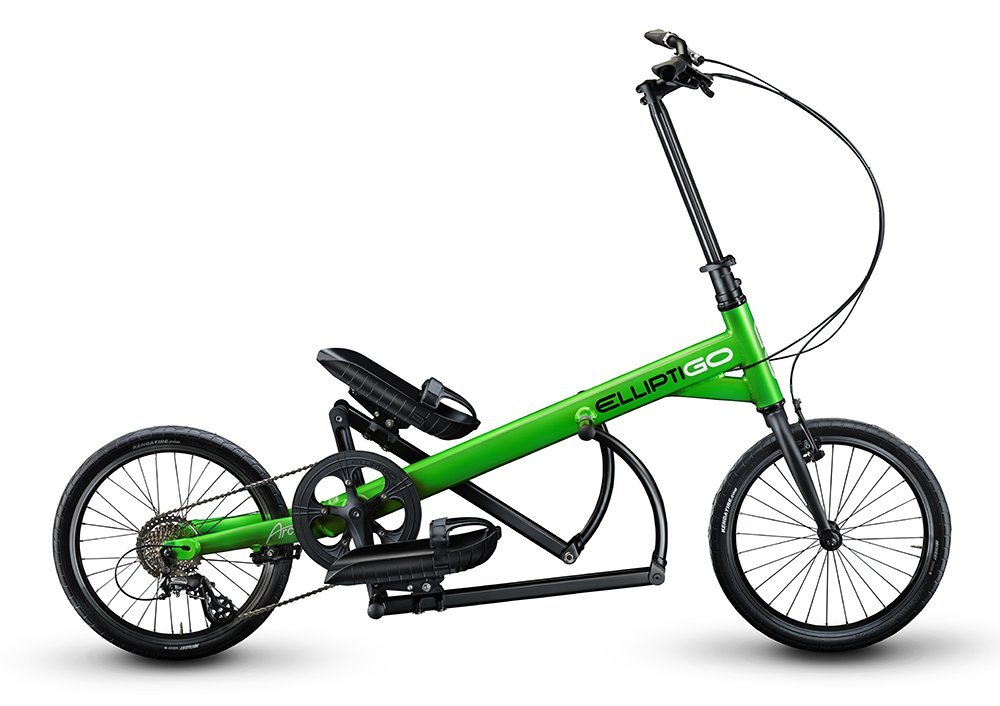 Arc 3, 8, 24 - Compact Series
13.8" stride length
Adjustable stride height
Sealed system drive train
Pivoting foot platform
3C, 8C, 11R - Long Stride Series

16-25" stride length
Adjustable stride height
Guide track drive train
Fixed foot platform
Check out the latest models on special sale now at Amazon!
The Word on the Street
The Elliptigo bikes took some time to catch on, but they have been gaining in market share steadily over the last few years.  These elliptical bikes are currently sold in over 250 stores in 50 countries.
The main selling point is the fact that you can engage in the low-impact elliptical workout that you love without having to be indoors to do so.  It appeals to cyclists and runners as well, as it gives them another way to enjoy their favorite exercise.
The company currently offers two different series with three models in each.
The Compact-Stride Series consists of the Arc 3, Arc 8 and Arc 24.  They feature a fixed 13.8" stride and cost between $999 and $1499.  As you move up the series, the bikes are more able to handle more serious terrain, like steep hills and climbs.
The Long-Stride Series consists of the 3C, 8C and 11R. They feature an adjustable stride up to 25" and cost from $1999 up to $3499.
Taller users will definitely prefer the adjustable stride models, as the 13.8" stride might be a tad uncomfortable for them.
It definitely takes some time to get used to the motion of the Elliptigo bikes, but once you do chances are you will enjoy it.  They operate just like a bicycle with the handlebars, gear shifting and hand brake.
You can go up to 25 mph on some models, and handle some decent hills with some of the upper level ones.  The workout is definitely low impact and offers a nice way to get your elliptical training outdoors.
Any negatives?  Sure.  It does take some getting used to and some people might find the motion too awkward to enjoy.  That's why a test drive definitely makes sense before you pull the trigger.
Also, these are quite pricey, especially the Long-Stride series, that can go over $3000.  That's a lot of money to pay when you compare it to an equally priced traditional elliptical, which offers so many more features and capabilities.
Our Thoughts on the Elliptigo Bikes
The Elliptigo bikes aren't for everyone, but for those looking to take their elliptical workout outdoors, they just might be the solution for you.
Sure, you'll feel a little silly at first. But you will get a great low impact workout and be able to feel the cool breeze that a workout fan just can't duplicate.
We would recommend one of the longer stride models if you can afford it, as it gives you much more flexibility and doesn't limit you to a fixed length.
Get more info and sale pricing on these new hybrid ellipticals here!