Body Solid's Endurance E5HRC Elliptical with Lifetime Warranty
One of the stand-out performers in this company's line-up is Body Solid's Endurance E5HRC elliptical. This machine has the same small footprint and portability as the entry-level E4, but offers more options and flexibility. The price is a bit higher, but you're getting more work-out for your bucks.
What You Get
The Endurance E5HRC elliptical is structured to fit into smaller spaces than most ellipticals with this much going for it. It will appeal to apartment dwellers and those who are trying to fit a good elliptical machine into their bedroom or living area without having it take over the place. Features of the Endurance E5HRC include:
Front flywheel
Synchronized upper body workout
LED display console
16 levels magnetic resistance
Wireless chest strap heart monitor
Electronic tension control
16" stride
Four pre-set programs
275 pound weight limit
Warranty: Lifetime parts, 1 yr. labor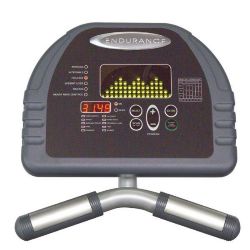 Once again, the warranty is a stand-out, backed by Body Solid's reputation for outstanding fitness equipment.
The Word on the Street
At almost $1,400, you're paying substantially more for Body Solid's Endurance Cardio E5HRC than you would for the Body Solid E4 Stepper, but you're getting some distinct upgrades that trainers feel make a world of difference. First, the 16" stride is crucial. Those extra two inches mean this elliptical machine will be suitable for most people unless you are overly tall. It also gives it a smoother glide.
Compare Prices of the Popular Endurance Ellipticals Here

Fitness pros also like the electronic tension control of the Endurance E5HRC (the E4 uses a manual tension control knob), which means you can adjust quickly while maintaining your workout target zone. Finally, the wireless chest strap heart monitor is something trainers take note of because it tends to be more accurate than a pulse grip. You usually only find these included in the price with elliptical machines in the $2,000 plus range.
Consumers like the smooth feel of the magnetic resistance on the Endurance E5HRC, and notice that this is definitely more elliptical and less stepper than the E4. Being able to tuck it away in a corner means they can put it just about anywhere.
Our Thoughts
Two words - stride length. If you want a smooth elliptical motion that fully uses all of the lower body muscle groups, a 16" stride is essential for anyone over about 5'10," so the Body Solid Endurance E5HRC elliptical has been well-designed - it puts sufficient stride into a remarkably small footprint.
The user weight capacity is also higher with the Endurance E5HRC, in keeping with an elliptical machine designed for higher performance. It holds up to 275 pounds - not the highest in the market by any means, but certainly respectable.
We also like Body Solid's upgraded LED display console, which is easy to read and has three different input modes and six different display read-outs.
For $1,400 and a lifetime warranty, you should certainly get your money's worth with the Body Solid Endurance E5HRC elliptical trainer
Show me other Body Solid Elliptical Trainers