The FreeMotion 530 Elliptical Trainer – A Compact, Affordable Front-Drive Machine
The entry-level FreeMotion 530 elliptical is the company's most affordable model and features many perks found on their more expensive trainers.
What You Get
The blue screen display shows distance, time, RPM, heart rate, calories burned, and more. The FreeMotion 530 elliptical also has a RaceTrack™ display, Google Maps™ powered workouts, and in-handle ramp and resistance controls.
The full list of specs includes: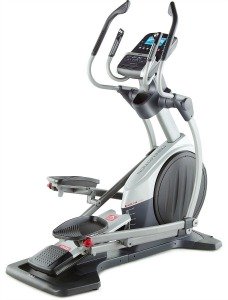 -10° to 20° Decline/Incline Ramp
20" to 22" Adjustable Stride
22 Resistance Levels
Dual-Grip EKG™ Heart Rate Monitor
iFit Live™ Technology
Speakers + Compatible music port for iPod®
Coolaire workout fan
325 lb. user weight capacity
Compare Popular Freemotion Elliptical Trainers On Sale Here
The Word on the Street
Some of the notable features on the FreeMotion 530 elliptical include a 28-lb inertia-enhanced flywheel for a smooth ride, Silent Magnetic Resistance (SMR) with natural adjustments for easy tension changes, commercial gauge solid steel frame construction, and a 20"-22" stride length.
The -10° to 20° Decline/Incline Ramp helps to target muscle groups more effectively. In addition, the new front drive design from FreeMotion means that you'll save a lot of floor space over other types of ellipticals.
Other features include upper body workout handlebars, stationary handlebars with heart rate sensors and in-handle ramp and resistance control buttons, a workout fan, oversized pedals with angle adjustment and cushioning, a plug-in for an iPod or MP3 player, built-in console speakers, and iFit Live technology for access to additional workout programs and other features offered exclusively at ifit.com.
According to customer reviews, the FreeMotion 530 is a decent buy. It is a compact elliptical that will give you a tough workout with a standard stride length – something not always found on a front drive machine.
For individuals in great shape that want something more challenging than what they might get here, you should take a look at the company's 5.6 FreeStrider which is a hybrid strider – not an elliptical.
Our Thoughts
The FreeMotion 530 elliptical sells for $999 to $1,099 online and you shouldn't pay more than that since it is just an okay but not great machine.
It's sturdy and easy to use, but these new FreeMotion front drive models are experiencing problems with the moving arms falling off. The big downside is that it is an Icon Fitness product, and the customer service from the giant conglomerate can be a nightmare if something goes wrong with your machine.
Show me other FreeMotion Elliptical Trainers