FreeMotion Elliptical Trainers – One of the Best Brands
Freemotion elliptical trainers adhere to the company's philosophy of "train the way you move." The aim to get people to maximize their time spent on working out so that they can get the most out of their bodies during everyday living.
About the Company
Founded in 1999, FreeMotion Fitness™ manufactures commercial, light commercial and residential cardio and strength training machines. The company focus is to create products for 3-dimension training ("free motion") that prepare the user for the real world where movement is a part of life.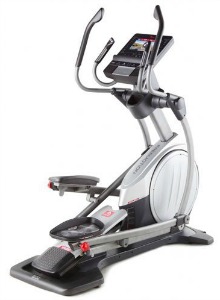 In December of 2000, the company became the commercial subsidiary of ICON Health & Fitness, the world's largest fitness equipment manufacturer. Other brands sold under license in ICON's stable include Healthrider, Epic, Proform, NordicTrack, Image, Reebok, Gold's Gym, Weslo, and Weider. FreeMotion products are manufactured in Logan, Utah.
Compare Freemotion Elliptical Trainers Here
Though wholly owned by ICON Fitness, FreeMotion functions independently in terms of research, development, marketing, sales, operations, and customer service. This independence has worked with resounding success.
In a recent study in the Journal of Strength and Conditioning Research, the company's award-winning "free motion" designs were shown to deliver superior workouts over fixed form equipment.
Freemotion elliptical trainers and striders focus on quality components, superior ergonomic fit, and advanced training technologies including the custom-designed ERS™ (Electromagnetic Resistance System) that applies consistent resistance to the flywheel. 
Other standard features include a smooth belt-drive system, convenient QuickTouch™ buttons for easy access to program changes, self-powered units requiring no plug-in to power the console, and a unique rear-access step-up design to maximize floor space without compromising durability or functionality.
The Current FreeMotion Elliptical Lineup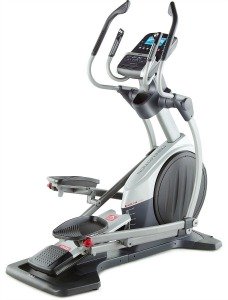 Prices on models range from $4999 to over $6000. The high-end commercial ellipticals trainers are found in health clubs, universities, and sports clubs around the world.
The light commercial units feature the same movement patterns, geometry, and engineering found in the more expensive units and are sold alongside home use products.
There are only two home ellipticals left according to our latest FreeMotion reviews: the rear drive 510 and the front drive 570.
FreeMotion 510
The rear drive 510 elliptical features an 18-20" adjustable stride, 20 resistance levels, up to 30 degrees of incline, SpaceSaver folding design, 30 built in workouts, grip and wireless heart rate monitoring, iFit compatibility, oversized pedals, music, fan, aRaceTrack display and a 325 lb. max weight capacity.
FreeMotion 570
The front drive 570 elliptical features a longer 20-22" adjustable stride, -10 to 20 degrees of both decline and incline, 36 built in workouts and iFit Live built right into the 10" touch screen with web browser, and a 375 lb. max weight capacity, on top of everything else you get on the 510 model.
Both models are constructed from commercial-guage steel, are ergonomically designed and include very strong warranties.
There are also two commercial grade FreeMotion ellipticals available, although they are much more expensive and are not necessary for home use.  The 
Lastly there is the FreeMotion e 8.5 and e 10.6 Commercial Ellipticals are both rear drive machines with enhanced construction, 20" stride lengths and a hybrid resistance system that is generated by usage.
FreeMotion elliptical trainers are designed to stand up to rigorous use by dedicated fitness buffs and world-class athletes who take their training seriously.
These machines deliver one promise: to help you train the way you move. Owners of the home equipment will soon discover what health clubs already know, that the company's quality assurance, technology, and customer service makes it one of the best brands in the business.
Click here to write your own review!
Are the FreeMotion Ellipticals Worth Buying?
Although the FreeMotion ellipticals are well made and have a lot of good features, they are very expensive, and also have not been updated in a number of years.  It looks like the parent company, ICON Fitness, is focusing a lot more on their NordicTrack and ProForm brands.
As such, we don't recommend FreeMotion for home use.  Both the 510 and the 570 have a list price of $4,999.  For less than half of that, you can get an incredible elliptical from Matrix Fitness, one that has the latest technology, commercial-grade construction and console choices for customization.
Even their top of the line A50 Ascent Trainer, with a larger adjustable stride plus more incline capability,  is $2000 less than a FreeMotion elliptical, so there's really no reason not to go in that direction for your home gym.
If you're dead set on a FreeMotion however, the 570 is definitely better than the 510 as it gives you decline capability, longer stride and a touch screen with internet built in.  It also has a higher max weight capacity to accommodate more users.
Below you can find more in-depth FreeMotion elliptical reviews, with specs, pricing, buying tips and comprehensive model info to help you make a more informed decision.  We've included a few older models as well that may still be available used.
FreeMotion Model Reviews
FreeMotion 530 Elliptical - The entry-level FreeMotion 530 is the company's most affordable model and features many perks found on their more expensive trainers.
FreeMotion 570 Interactive - The FreeMotion 570 offers the latest in colorful web browser entertainment and an advance incline/decline ramp training with an adjustable stride length feature.
FreeMotion Freestrider s5.6 - Tough, butt-blasting workouts that are not for the faint of heart. Recommended at $1,299 because of its quality, warranty, adjustability, and effectiveness.
FreeMotion Freestrider s7.8 - Light commercial model meshes the advantages of incline training with an elliptical. Choose your own stride length no matter what your height or natural range of motion.
FreeMotion e5.3 -The e5.3 with center-drive has a lot going for it but reviews by consumers have mentioned a few niggling issues, mainly dealing with the self-generating power display.
FreeMotion e7.7 - A light commercial quality trainer that offers superior construction in a compact footprint. This unit packs a lot of value, quality, and reliability.
FreeMotion Terrain Elliptical - 10% decline and a 20% incline ramp helps you engage different muscle groups for a more effective workout.
FreeMotion Commercial Elliptical - If you love paying too much for equipment, this trainer is designed just for you. Similar to the e7.7 which costs $2000 less.
---