The FreeMotion Freestrider s5.6 – Tough, Butt-Blasting Workouts
The new FreeMotion Freestrider s5.6 offers a new way to train with a variable stride and a core target workout to keep your waist and abs lean. This long "Strider" machine is half rugged step trainer and half calorie-blasting incline trainer.
What You Get
The FreeMotion Freestrider s5.6 has a green backlit display showing distance, time, RPM, heart rate, vertical feet, calories burned, and carbs burned. The 8 body-zone workouts automatically adjust the resistance and stride to focus on quads, glutes, calves, or core. The 8 Preset Stride Workouts automatically adjust the resistance of the strider to focus on aerobic, weight-loss, endurance or performance goals. The FreeStrider comes with a free iFit® Level One Weight Loss workout card with 6 weeks of progressive workouts.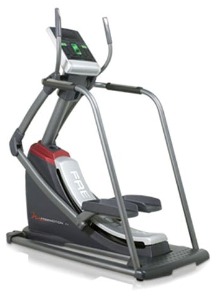 The full list of specs includes:
Electromagnetic Resistance System
12 1-Touch Resistance levels
Up to 35" Variable Stride Length
16 Programs
iFit® Workout Card
Upper Body Handles w/Contact HR grips
Polar® Wireless HR Compatible
Cushioned Foot Pedals
MP3 Music Port
Coolaire workout fan
300 lb. user weight capacity
Weight/Dimensions – 190 lbs / 57" x 29" x 68" (L x W x H)
Warranty –lifetime frame; 7 yrs parts; 1 year labor
Compare Popular Freemotion Elliptical Trainers On Sale Here

The Word on the Street
Your lower body gets a tough workout on the FreeMotion Freestrider s5.6, which offers the longest stride range on the market.
The pedals follow FreeMotion's pattern of an Inverted Arch™ Technology that increases the range of motion, strengthens the legs and core, and yet minimizes joint angles that would put strain on the knees, ankles, and hips.
The variable stride allows the user to do short strides for calf development, mid-strides for the gluts and quads, and long 35" strides for hamstring work.
Using the long strides also increases flexibility as well as fires up more muscle fibers for optimum toning and shaping in the legs and butt. There is no need to press a button or manually turn a lever; you define your stride as you move, on the fly, for ultimate convenience.
At the same time, your upper body will benefit from the Core-Vantage Workout Technology, which targets the core muscles and abs with motion resembling a "standing crunch."
In your research on the FreeMotion s5.6 Freestrider, you will likely find nothing but excellent reviews. Be sure to note that it is called a "Strider" because of the Inverted Arch movement, making it more like a stair stepper.
It is NOT an elliptical; nor does the stride feel anything like the ellipse pattern on a traditional trainer. The greatest advantage of the Freestrider over most ellipticals is the phenomenal workout it gives, so be prepared to sweat and feel a burn in your thighs and butt. Is it effective? Oh, heck yes. This one has to be experienced to be believed.
Our Thoughts
If you don't like ellipticals, or if you like them but they cause you some numbness or discomfort in your feet, perhaps the FreeMotion Freestrider s5.6 might be a good choice for you.
On the other hand, it isn't a trainer that offers the type of low rate of perceived exertion and low impact training that ellipticals do. This is a tough, butt-blasting workout that is not for the faint of heart. Recommended at $1,299 because of its quality, warranty, adjustability, and effectiveness as long as you remember it isn't an elliptical – it's a Strider.
Show me other FreeMotion Elliptical Trainers