The FreeMotion Commercial Elliptical Trainer - An Overpriced Model
If you love paying too much for equipment, the FreeMotion Commercial elliptical trainer is designed just for you. You have nothing to gain by buying an overpriced commercial model for home use, when residential models offer the same intense workouts for thousands of dollars less.
What You Get
The FreeMotion Commercial elliptical has a high resolution LCD display showing feedback for Speed, Time, Segment Time, Resistance, Pace, Distance, Calories, Watts, Heart Rate, RPMs and more. The 8 Pre-Programmed Workouts include Cardio, Pulse, Manual, Random, Interval, Quick Start, Foothills, Peaks, and All-Terrain.
The full specs are: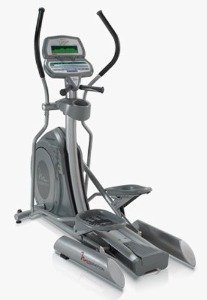 ERS™ Electromagnetic Resistance System
20 QuickTouch Resistance Levels
8 QuickTouch Programs
Contact Sensors + Polar® Wireless HR Telemetry
Patented Footpath
Self-powered
350 lb. user weight capacity
Weight/Dimensions – 380 lbs / 78" x 28" x 71" (L x W x H)
Home Warranty – lifetime frame; 3 yrs parts; 2 yrs labor
Optional: The Cardio Theater® & BroadcastVision® display is a 12-inch flat panel LCD screen that integrates directly into the console and includes easy controls for channel changes and volume levels. Price of the TV model: $6,800.
Compare Popular Freemotion Elliptical Trainers On Sale Here

The Word on the Street
There are very few reviews on the FreeMotion Commercial elliptical trainer due to its high price and limited availability, two characteristics that are rare in an ICON Fitness product. The trainer features a custom-designed ERS (Electromagnetic Resistance System) to apply consistent pressure to the flywheel for a superior workout.
It also has a self-tensioning Flexonic™ belt drive system that offers a smooth striding motion with little noise, and a covered maintenance-free wheel track to keep out dust and dirt that could affect performance.
Other features include a patented footpath that offers a natural striding motion, a 350-lb user weight capacity, hand grip heart rate monitoring plus wireless chest strap, and one-touch programming..
Our Thoughts
The FreeMotion Commercial elliptical trainer is listed for $5,375 at Amazon.com, and at $4,829 at the official manufacturer's website, so be sure to shop around for the current best price if you are determined to overpay for an elliptical.
If you want to make a smarter choice, you can buy nearly the same elliptical in a home model called the FreeMotion e7.7, which can also be fitted with a workout TV. Base price of the e7.7 is just $2759, and the home warranty covers three years on parts and two years for in-home labor.


Show me other FreeMotion Elliptical Trainers