Pros and Cons of Tony Little's Gazelle Freestyle 2 Glider
The Gazelle Freestyle 2 glider is not really an elliptical machine but it is a (distant) cousin so we'll include it on this website, as well as some of the other Tony Little exercise equipment. While we are big fans of elliptical cross trainers, we aren't big fans of the Gazelles, yet we want to offer up some pros and cons.
What You Get
The Gazelle Freestyle 2 glider ($199.99) works your arms and legs and torso in a striding motion that combines the feel of a cross country ski machine with your kid's swing set. You can use it at either the slow walking pace or a full out running stride.
ThoughTony Little's Gazelle Freestyle glider is a manual machine, it's got a computer console that provides information on your workout such as speed, distance, time, and approximate calories burned. Features of the Freestyle 2 include: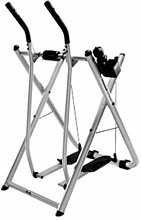 Thumb pulse heart rate monitor
300-lb. user capacity
Personal trainer DVD included
2 year warranty
Tony Little Exercise Equipment
The Freestyle 2 Gazelle glider is rated to hold users up to 300 pounds though we don't recommend users weighing over 225 pounds on it. It also comes with a free Tony Little exercise equipment video.
The Word on the Street
Fitness experts will point out that the Gazelle Freestyle 2 glider is NOT an elliptical and the swinging motion does not mimic an elliptical. A true elliptical follows the natural motion of the foot and it's a very scientific, researched and patented design. The Freestyle 2 glider is more like a kid's swing. To put it politely, fitness trainers consider Tony Little's Gazelles a joke: poorly designed, poorly constructed, unstable, boring to use, and offers no real resistance or programming. As for "different" exercises you can do on it, it basically means slow, medium, and faster.
Despite what the experts say about the Gazelle Freestyle 2, many buyers seem to be happy with their purchase, or at least the ones who admit to owning one of Tony Little's gliders. Those that post reviews on the internet have been matter-of-fact in their praise of the lil machine yet, as we all know, glowing reviews are often posted by paid insiders and that could be the case here for Tony Little exercise equipment.
Still other users report great results, losing weight and having no issues with squeaking frames (if you keep the WD-40 at the ready), lack of stability, or comfort. Of all the ellipticals, cross trainers, and other apparatus we've reviewed, we've never seen such a love/hate reaction to a line of cardio equipment as with Tony Little's Gazelles.
Our Thoughts
The Gazelle Freestyle 2 is not stable like an elliptical and will slide across the floor or carpet when you really get going. We found that the body posture has to be quite erect with a slight forward lean in order to avoid back strain, and there was nothing "elliptical" about the stride motion.
We know that good cheap elliptical trainers are hard to come by, but we would recommend you take a look at these ellipticals priced under $500 before you spend your money on the Gazelle Freestyle 2 glider.