Cheap Elliptical Trainers - Buy for Price and Comfort, Not Features
You've seen cheap elliptical trainers for sale but probably wondered if they were really a good buy or a waste of money. We are happy to tell you that there are cheap ($100-$300) and budget-priced (under $1000) elliptical machines that can be considered to be good buys.
Budget Elliptical Machines for Less Than $300
Before we start looking at cheap elliptical trainers, let's first look at something completely different, Tony Little's Gazelles. These budget-priced machines hardly look like ellipticals as they use more of a glider motion which incorporates swinging the arms and legs back and forth. These odd gliders have a lot of enthusiastic owners who report getting very good workouts with these cheap machines and continue to use them.
A Gazelle folds up flat for quick storage and you can't beat the price at $199 for the popular Gazelle Freestyle model. The fitness guru also offers two other cheaply priced versions as well: the Power Plus ($299) and the Edge ($100).
Get all of the Gazelle exercise machines on sale now at Amazon!
As for cheap elliptical trainers, take a look at Stamina and who make a number of budget models. (Whew!)
Not only is the cheap price inviting but the quality isn't bad - and get a load of what they pack into some of these machines: 6 programs, 8 resistance levels, and heart rate monitoring on hand grip sensors. They have shorter stride lengths but otherwise these cheap elliptical cross trainers are top notch budget machines.
The Stamina and Gazelles aren't the cheapest elliptical trainers we've seen; that distinction would probably belong to Weslo. Have a look at the budget-priced Weslo 610 and 620 models which are both less than $180 but you really need to be a petite adult to deal with a stride length that short (12" and 13").
Take a look at our Best Ellipticals Under $500 section for more options.
Budget Elliptical Machines for Less than $1000
If you can spend a little more, have a look at NordicTrack, ProForm, Horizon and our other top brands in the $500-$1000 range.  These will give you more features and capabilities than the under $500 ellipticals will, while not breaking the bank.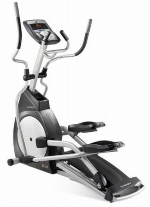 All of these companies make quality budget elliptical models.  Although they do have higher priced machines as well, there are plenty of options under $1000 to choose from.  You'll get some incline, some good resistance levels, some workouts and some entertainment features as well.
Price is Nice But Comfort is Key
There are quite a few good but cheap elliptical cross trainers you can choose from, just keep two important points in mind when making a purchase: stability and a smooth gliding motion.
All the other bells and whistles, programs, monitors, readouts, etc., don't matter much if the thing wobbles or your workout is uncomfortable. When shopping for budget or cheap elliptical trainers, buy for price and comfort, never features.
Elliptical Deals: 4 Ways to Find a Bargain