The Healthrider C515e Elliptical Machine - Basic Model from Icon Fitness
The Healthrider C515e elliptical fitness machine is another low-priced elliptical trainer geared to individuals who want to start getting in shape without a large outlay of money. It's got the basics you need and will perform serviceably for you for a few years without problems in most cases.
What You Get
This is a cross trainer that doesn't have a lot of bells and whistles. It focuses on good performance for what it's designed to do: give you a cardio workout and work the lower and upper body. The key features of the Healthrider C515e elliptical fitness machine are: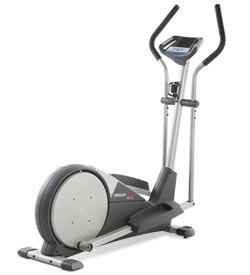 Eight built-in programs
Blue back-lit LCD display
Hand pulse monitors
18" stride length
Upper body workout
90 day limited warranty
Built-in fan for keeping cool
Coming in at around $300-$350, this is one of the least expensive ellipticals you can purchase. It's actually built and distributed by ICON Fitness, which manufactures a wide range of elliptical trainers under names such as NordicTrack and Weslo.
Because it's backed by a leader in the industry, the construction is sturdy enough, but the Healthrider C515e elliptical fitness machine does have some limitations.
The Word on the Street
UPDATE:  The Healthrider C515E elliptical trainer is no longer being sold.  You can check our Best Buys Under $500 here.

Advantages that both trainers and consumers agree on is that, like the treadmills that Healthrider became famous for, these elliptical fitness machines are trustworthy and will run for a long time with no problems. The built-in fan is also a plus if you just don't like to exercise or find that getting overheated is a handy excuse to quit.
Cons of this model include a loud noise level. Consumers especially noted that if you like to watch television while using the Healthrider C515e, you'll have to really crank up the volume.
Also problematic is the warranty – at only 90 days, you should probably consider buying an extended warranty when you're purchasing.
Our Thoughts
Our concern with this model is that you just don't see a lot of them out there. Even on the Internet, not many places carry these machines. If you visit the Healthrider website, you get very little in the way of information.
Just try locating information on the actual user weight limit for this machine. An elliptical trainer that isn't much seen or heard about hints at problems. ICON isn't putting a lot behind this particular line, and it makes us wonder why.
Our advice – spend $150-$200 more and get something that's still in the reasonable range but has more standing behind it than the Healthrider C515e elliptical fitness machine seems to.
Show me other Healthrider Elliptical Trainer Models