The Healthrider Elliptical Trainer Line – A Few Solid Performers

Healthrider Elliptical Reviews
The Healthrider elliptical trainer line is manufactured by ICON Fitness, one of the largest home exercise equipment manufacturers in the world. ICON's enduring success is based on their keen awareness of what consumers want, and one of the things they want is choice.
Healthrider elliptical trainers fit into a specific price range - $350 to just under $1,000 – and appeal to buyers who are interested in a solid machine with some options and a high comfort level. Because Healthrider is backed by ICON's impressive research and development division, the company can afford to provide quality at a relatively low cost.
Healthrider is a name more closely associated with the "riders" popular fifteen or so years ago. These exercise machines were designed and patented by Healthrider before the company was purchased by ICON in 1999. It was when ICON took over that Healthrider branched out into other types of fitness equipment.
Banking on the Healthrider Name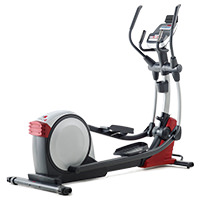 ICON has introduced a few solid performers in the Healthrider elliptical trainer line, which is a limited choice for some consumers. Because they own so many other brands, however, they don't necessarily lose by offering only a few. Instead they focus on the quality of these few in the middle price range and appeal to consumers familiar with the Healthrider name.
The current lineup consists of the Tony Little Hybrid Trainer, the H50e, the Stride Trainer 900, the H35e and the H45e.
Experts Have Some Reservations
UPDATE: We no longer recommend Healthrider ellipticals as there are much better choices for you on the market today.  Check out our Best Ellipticals Under $1000 section to find a great elliptical for your home.
Trainers recommend the Healthrider models with some reservations. They feel that these elliptical trainers are good performers with a decent warranty. They have a slight hesitation about the stride length, however, and the lack of or limited incline options, depending upon the model you choose.
Above Average Performance
People who have purchased a Healthrider elliptical trainer give it an above average rating, although not as high a rating as some others in the same price range. While most say these machines are durable and reliable, they note that the 90 day warranty isn't as good as most other warranties in this price range.
Many suggest paying extra for an extended warranty option in the event that you run into problems in the first few years. Another complaint was the customer service support, which some felt was below par, especially if you called with questions after the initial 90 days had passed.
Consumer Reviews
Healthrider User Reviews - Positive and negative comments submitted by consumers who bought a Healthrider elliptical.
Click here to write your own review!
Healthrider Model Reviews
Healthrider H70e - a no-frills starter machine; not recommended for heavy use.
Healthrider H90e - attractive profile, long stride length and power incline.
Healthrider H140e - a 'Best Buy' for ellipticals selling in the $1000 to $1500 range.
Healthrider 330 - a basic budget model.
Healthrider Stride Trainer 900 - The Healthrider Stride Trainer lags behind new technology and improved components installed on 2010 models.
Healthrider C550e - attractive looks, solid ride.
Healthrider 8.5 EX - sturdy and well built; a reliable mid-priced machine with attractive lines.
Healthrider C515e - another low-priced model geared to individuals who want to start getting in shape without a large outlay of money.
---