HealthRider H90e Elliptical Trainer Offers Value for Your Dollars
Among mid-range models, the HealthRider H90e elliptical trainer has to offer a lot of features in order to compete in the $1000-$1500 range which is the most populated class of best-selling ellipticals. It has its strong points, but also has two glaring weaknesses: the unknown HealthRider name, and the weak warranty.
What You Get
Priced at $1299 MSRP, take a look at what they pack into this elliptical trainer: 20 programs, 10 resistance levels, a power incline ramp, heart rate monitor, large max user weight, foldaway design and much more. The full spec list of the HealthRider H90e includes:
10 levels of SMR™ Silent Magnetic Resistance
20 Programs
30° Max Incline Power Ramp
iFit® Workout Card Technology
Soft Touch™, Upper-Body Workout Arms
18" stride
Rear flywheel
BioLogic™ Dual-Grip Heart Rate Monitor
Spacesaver™ Design
Oversized, Cushioned Pedals
325 max user weight
Warranty – 90 days parts and labor
The Word on the Street
UPDATE:  The Healthrider H90e is no longer being sold.  You can check out all of the best under $2000 ellipticals for sale here.

The HealthRider H90e elliptical trainer is pretty much the same machine as the Reebok 1000 ZX elliptical trainer which is pretty much the same as the NordicTrack AudioStrider 990. The NordicTrack has landed on many "Best Buy" lists so it stands to reason that experts would rank the H90e as highly in terms of quality, although the NordicTrack 990 costs $300 less.
But Healthrider isn't a well known brand like the NordicTrack and the 90 day warranty is the shortest in the business. To show you the difference, consider that competitors are offering at least one year on parts/labor and up to ten years on the motor.
Consumers like the attractive profile, and the long stride length, and that it comes with a power incline which helps to give you a complete body workout. Plus, when you buy the HealthRider H90e elliptical trainer directly from the company online, you'll be eligible for free shipping, which can save anywhere from $75 to $150.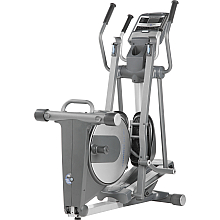 Our Thoughts
The power incline, iFit® programs, and overall ergonomic feel are advantages. We also like the extensive amount of pre-loaded programs (20!) which means that while your body is constantly trying to adapt to whatever fitness regime you're following, you are always able to vary your workout to maximize results.
The HealthRider H90e elliptical trainer offers a lot of value for your dollars -- although we would prefer to see it sell for a lot less, at around $1000 -- which is what you'll find the Reebok and NordicTrack machines priced at.
Show me other Healthrider Elliptical Trainers